Recent grads to pursue college sports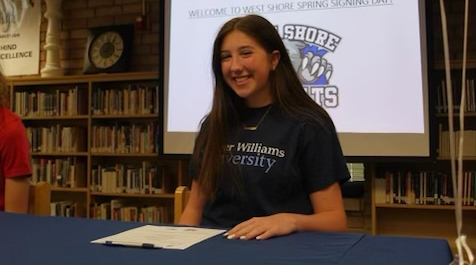 According to the National Collegiate Athletic Association, about 495,000 of the nearly eight million high-school athletes pursue sports in college. Four recent West Shore graduates have move on to play at the collegiate level. Lily Winsten signed to play volleyball for Roger Williams University in Rhode Island.
"I signed up because I really love the sport and I feel like I still have room to grow in it," Winsten said. "Also, college volleyball provides me with a way to go to college out of state."
Roger Williams is a Division III school and the volleyball team finished runner-up for its championship conference.
"I think [playing for them] will provide me with some leadership opportunities in a way that I have not experienced yet," Winsten said.
On top of qualifying for states in the discus event, Madison Hannah currently is settling in at UNC Asheville in North Carolina to compete as a thrower on the Division I track and field team.
"I know it will be a huge part of my life for the next four years," Hannah said. "There's a lot of weightlifting, training and practicing that come with being a thrower, so I will have to devote a lot of time to that."
Hannah said her father, who coaches her in discus, is one of her greatest supporters.
"My dad has really worked hard with me to get me where I am today," Hannah said. "So finally signing with UNCA was a huge relief and I know that he's really proud."
Kalia Clary said she feels a sense of achievement as she heads to Ave Maria University near Naples to swim at the Division II level. She attributes her success to her family's support.
Allison Clark recently headed to Rose-Hulman Institute of Technology in Terre Haute, Ind., to compete on the swim team while majoring in chemical engineering and minoring in biochemical engineering. 
"I got a call from [the swim coach] a week before I committed asking if I was still interested as he wanted me to be a part of the team," Clark said. "These positive interactions made the whole experience incredibly enticing and made my decisions to commit much easier. I don't have any doubts this will be a great adventure."