'U.S. News' ranks Florida No. 1 in higher education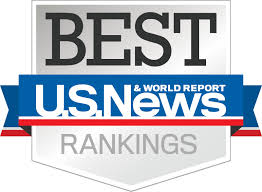 "U.S. News" recently released the rankings for "Best State for Higher Education," with Florida being ranked as No. 1, a surprise to some because of the recent changes in the state's educational policies. According to the "Tampa Bay Times," Gov. Ron DeSantis signed 18 new education bills into law on May 18. Many of these laws have been controversial, including HB 1557, the "Don't Say Gay" bill. According to "U.S. News," the ranking comprises metrics reflecting the share of citizens in each state holding college degrees, as well as college graduation rates, the cost of in-state tuition and fees and the burden of debt college graduates carry."
Junior Jacob Woods expressed shock that Florida was in first place, let alone in the top 10 above California.
"I couldn't believe [that Florida is first]," he said. "Every day I open up my phone wondering what is going to happen to my education."
Florida ranks No. 1 in two-year-college graduation rate, No. 8 in low debt at graduation, No. 1 in tuition fees, No. 4 in four-Year-College graduation rate, and No. 28 in educational attainment, according to "U.S. News."
"I always knew that Florida college tuition [for both in-state and out-of-state] was cheaper than other states," Woods said. "But, for tuition to be the cheapest in all of America is baffling."
Junior Cole Murray was skeptical of the rankings.
"I don't get why we should trust a third-party to rank the education system of America," Murray said. "[U.S. News] is a privately-owned company, so who knows what they are doing behind the scenes."
After being questioned by others "U.S. News" released a statement explaining the ranking system.
"To ensure the Best States rankings are objective and fair, U.S. News designed the initial framework in consultation with a third party," the statement said. ""U.S. News' also weighted the eight major categories based on results from representative surveys designed to determine which factors Americans believe their home states should prioritize."
When Murray was told of this response from "U.S News," his skepticism continued.
"That [statement] just makes me even more sketchy of the ranking system," he said.
English teacher David Thompson said the rankings show Florida education is headed in the right direction.
"[The ranking] changes everything about what I see on Florida education," Thompson said. "It shows how much Florida education is actually worth despite all the controversy happening."
Freshman Aashish Addiredy said the ranking changed nothing for him.
"With the way DeSantis is changing up the high school education almost every day, by the time I start applying for college, Florida will be probably in the 30s [for the ranking]," he said.
By Sophia Fetouh