TikTok trend encourages stealing school property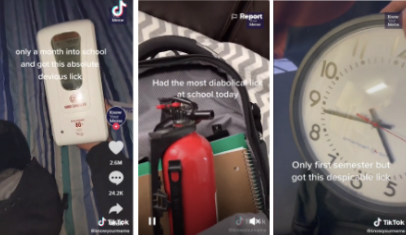 A new TikTok trend that encourages students to steal school property as a "Devious Lick" has found its way onto campus.
"If we catch them, it's going to depend on a multitude of things," School Resource Officer Valerie Butler said. "It's going to depend on if they damaged any school property. If they have defaced or damaged anything beyond repair where it will cost the school money to repair it [Iin that case,} it would be criminal mischief. If they steal something, then you are looking at a theft charge. It depends on the value of the property stolen, if it's misdemeanor or a felony."
A press release from Sheriff Wayne Ivey sad the trend involves students stealing "facility type" items. "Items already reported missing from Brevard County schools include soap dispensers, paper towel dispensers, a sink and bags of soap from school bathrooms," according to the statement.
"I only know of two incidents [at West Shore] where items were, not necessarily stolen, but they were removed from the wall," Butler said. "They were left in the bathroom."
Those items were soap dispensers that were removed from the walls in the boys' bathroom in Building 4.
Students caught with stolen items will face various disciplinary action based on the value of the item or the severity of damage to school property. In addition, the severity of the legal punishment would be paired with disciplinary action from the affected school as well.
"In the Central Florida area, over in other counties they're having issues with students stealing and defacing fire suppression-equipment like fire extinguishers," Butler said. "So now you've got the issue of not only are you stealing or tampering with school property, now you've got a fire suppression-instrument which is automatically a felony. We hope that that doesn't happen here."
Tik Tok has banned, and removed all "devious and diabolical lick" videos that students have posted as of Wednesday. The platform claims that these videos violate their community guidelines.
"Other TikTok videos show a trend with the same hashtag, however, students are bringing red liquid Kool Aid and spraying it on the walls and toilets in bathroom stalls to indicate a violent crime has occurred in a stall," Ivey said.
Schools throughout the country also have been affected.