Seniors graduate in 'perfect' ceremony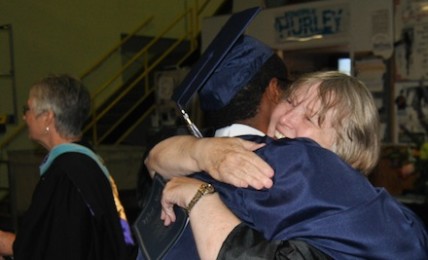 One-hundred and fifty-four members of the Class of 2013 threw their caps in the air at roughly 8:30 p.m. Friday, in celebration of their graduation. The commencement ceremony was held at the King Center and was approached with much anticipation from both the faculty and the seniors.
Due to the class size, West Shore is able to host a more personal, formal ceremony, taking place in the King Center. "I have never seen a more beautiful ceremony than what West Shore offers," Assistant Principal of Curriculum Jackie Ingratta said. "What we have is so formal as opposed to other schools. It's perfect, that's really the only way to describe it."
Ben Moor, Diana Sheedy, Christy Hernandez, Jackie Martin and Austin Combs gave speeches, each with their own take on the past, present and future.
"I was really honored to be able to speak because I put a lot of heart into what I wrote," Combs said. "A lot of people were shocked to find out who I am."
Following the ceremony, students were invited to Project Graduation, an event held at the Viera Pro Health and hosted by the school's PTA. There, students are able to dance, socialize, and win prizes to use in college such as microwaves, refrigerators, televisions and money.
"I was pretty excited to win so many things," senior Jackie Sherry said. "I won a bike, $40 and a vacuum."
Roar staff report
Leave a Comment