Safety concerns left inauguration attendee unfazed
Student attends presidential inauguration despite family's fears
Senior Andrew Catti was determined to attend Joe Biden's presidential inauguration, even if it would prove to be a potentially dangerous endeavor.
"Back in 2016, the day that [Donald] Trump won [the presidency] – it should be common knowledge that I hate the man – my father promised me that in four years when [Trump] was getting 'fired,' he and I would go to the inauguration just to say that we saw him get fired," Andrew Catti said.
But after Jan. 6, when the Capitol was raided by pro-Trump protesters, Andrew Catti's family and friends grew worried for his safety.
"I was getting calls from my aunts, uncles, grandparents telling me 'Do not go,'" Andrew Catti said. "Everyone was worried for me. My boss was making jokes about how I'm going to come back with no legs and get better tips because of it. Personally, I was thinking to myself, 'In a year, when nothing does happen at the Inauguration, I'm going to be sad that I wasn't there.'"
Andrew's mother, Denise Catti, said that prior to Jan. 6, her only reservation regarding her son's trip was that he that it would take time away from school. She said she felt confident in her son's social distancing and mask wearing practices to keep him safe from COVID-19, so the pandemic was not a concern. But after the insurrection at the Capitol, she said she feared for the worse.
"[Andrew's] father and I discussed [the trip] and I told him, 'No, I don't want you guys going,'" Denise Catti said. "Then my husband booked it. So I guess I didn't have much of a say. I didn't try to prevent it other than saying, 'I don't think it's a good idea. You better take care.'"
While Denise Catti said she is a registered independent and voted for Donald Trump in the 2020 election, her political affiliation was not a cause for her disapproval.
"I vote for the person," Denise Catti said. "I voted for Obama his first term. I voted for Trump. I like Biden. I think he reminds me of a grandpa. I hope he does a great job. He's President of the United States and I'll always respect that. I just hope that he does a great job."
Despite the warning cries from his loved ones, Andrew Catti said he was determined to see Biden take the Oath of Office.
"I told my husband that if anything happened to my son, he better not come home," Denise Catti said.
Andrew Catti said his father also had reservations about attending the inauguration as he was "petrified" from the siege on the Capitol.
"All of the craziness ensued and I tried to talk my son out of it," Ron Catti said. "But [Andrew] was insistent that we still had to go. I was getting phone calls as I was driving [to D.C.] saying, 'Please don't take Andrew to the Inauguration.' It was strictly because of the danger. The media was telling everyone to stay away."
Andrew Catti said his reason for wanting to attend the inauguration was to witness the official moment in which Donald Trump vacated the presidency and Biden took his place as commander in chief.
"I've supported Biden since the Obama Era," Andrew Catti said. "I love Biden because he says what's on his mind without being rude. He very rarely will diminish someone. I also support a lot of his policies, such as the Keystone Pipeline. It was going over Native American land, and it was harmful to the environment. Yes, it lost us a little over 1,000 temporary jobs. But in the future that saves our water."
Andrew Catti said his opposition to Trump stemmed from his belief that the former president "never cared about the American people."
"My son is very politically-minded," Ron Catti said. "He is quite Anti-Trump. Just all of the nonsense that we had to go through to get here, he just had to go. He felt compelled to go. He had to go and I couldn't say no. My wife wanted to kill me, but I couldn't say no."
Ron Catti said that he changed his hotel location to the outskirts of D.C. While he said this made travel into the nation's capital more difficult, it would potentially be safer. The father and son duo left a day earlier on Jan. 18 and returned home on Jan. 21.
"If things were going to get crazy, I told Andrew at any given point, we might just make a U-turn and go home," Ron Catti said. "But we never had to."
Andrew Catti and his father woke up at 8 a.m. the day of the inauguration and drove out of Virginia, where they were staying to D.C. All of the bridges into D.C. were shut down, so Ron Catti had to cross over to Maryland and take a 45 minute detour to get to the nation's capital. Andrew Catti said there were national guardsmen lined up "at almost every intersection" of D.C.
"You couldn't get your car past, but you were allowed to walk," Andrew Catti said. "We parked in a 'no parking' zone, because that's where everyone was parking."
Andrew Catti said he and his father were instructed to show their ID wherever they went and had to go through various metal detectors throughout their trip.
"We're walking, we're walking, and the second we get up to the Capitol there are thousands of national guards with guns blazed," Andrew Catti said.
While the duo was blocked off about a mile from the Capitol itself, Andrew Catti said they could walk the virtually empty streets to Pennsylvania and Capitol Hill.
"It was the safest place I'd ever been," Ron Catti said. "It was dead. There was nobody there. We were walking down the middle of Pennsylvania Avenue with not a car in sight."
Andrew Catti said he and his father were about a mile away from the site of the inauguration. According to Andrew Catti, he could only see a glimpse of the Capitol, with the flags along the outskirts of the building. There was a screen for viewers on the street to witness the inauguration and to watch Biden and Vice President Kamala Harris take the Oath of Office.
"I was so cold I couldn't see straight," Ron Catti said. "It was down to 38 [degrees]. We had snow flurries. It was interesting. I've been in Florida for thirty-something years now. My blood is red water. I was freezing."
While his father weathered the cold, Andrew Catti was beaming as he witnessed Biden's inauguration, even at a distance.
"I have a cousin who is transgender," Andrew Catti said. "He cried on [Jan. 20]. His dream was to join the military, and now that Joe Biden is in office he can now join the military. He feels that there is someone in office who cares about him. And that's how everyone else felt. Now we don't have this figure in the Oval Office who lies. Now you have a person who cares about the American citizens."
Although Ron Catti said he was "over the moon" to have former President Donald Trump out of office – and that he supported Biden's inauguration "115 percent" – his son's reaction is what pulled at his heartstrings.
"Seeing [Andrew] as excited as he was, even though we were so far away it was ridiculous, it just made me feel great," Ron Catti said. ""I have absolutely no regrets. [Andrew's] going to have stories to tell his kids for the rest of his life."
As a reporter for WCTZ News, Andrew Catti took the historic day as an opportunity to cover the inauguration for the TV production team. He interviewed various people on the streets while his father managed the camera.
"You could see the pain lifted from them," Andrew Catti said. "The interviews were so full of joy, so hateless. It seemed like the happiest moment of some of their lives. One man came with a whole costume, standing on Joe Biden's shoulder. All he did was dance in the street for hours."
But Andrew Catti said not all interactions were pleasant.
"When we were there, there was a guy wearing all black. He's standing there, not moving, not talking to anybody, with a black bag on the ground."
According to Andrew Catti, the man also wore a mask labeled with an offensive word directed toward Biden.
"The guardsmen were watching him like a hawk," Andrew Catti said. "But he didn't say anything. I asked him for an interview, he said no. I asked to take his picture, he said no. That was the only thing that made me a little uneasy."
Denise Catti said that despite concern for her family's safety, she thought the moment was a fantastic opportunity for her son to witness.
"I think for any child it's a surreal feeling," Denise Catti said. "I think it's an important time in a person's life. Being around the most powerful person getting sworn in [to the presidency] – I would think is awe-inspiring."
Andrew Catti said that attending the inauguration was an overwhelming experience, but one he will never forget.
"It gave me a side of pride in my country that we finally stood up, changed what needed to be changed, and came through in the end," Andrew Catti said.
Against all odds, and after four years of anticipation, Andrew Catti got his wish.
"We stuck to the promise," he said.
About the Contributor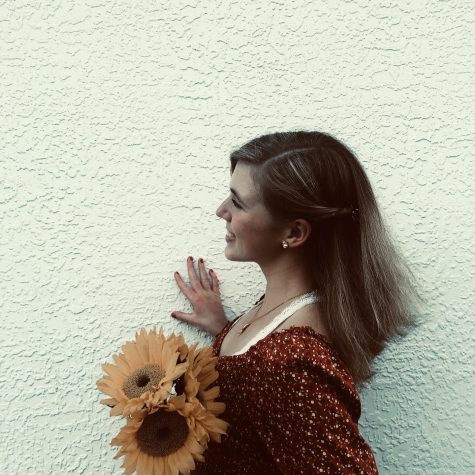 Sophia Bailly, Editor in chief
This is my third year on the "Roar" staff and my second year as editor in chief. I enjoy covering social and political issues and hope to cover international...