Roth educates with dinner party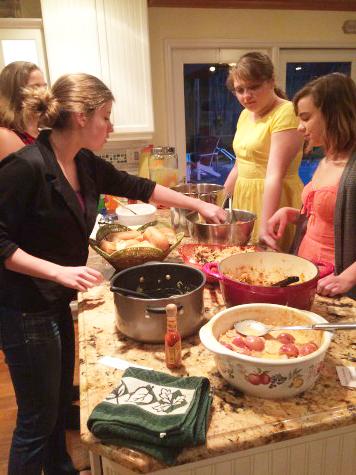 Senior Erna Roth played host a dinner party Saturday in order to fulfill the audience component of her Senior Project. She researched recipes from around the world and prepared all of the dishes she served.
"The food was exquisite. The sugar-banana curry soup was one of my favorite parts," senior Madeline Stanley said. "I liked socializing around the table, eating food and learning about where it was from. I learned it with my tongue."
Roth spent more than 15 hours researching, preparing and serving the food.
"The Fijian fish curry was the most difficult because it took forever to research and find the dish from the place," Roth said. "Then I had to put different ingredients into the dish to make it taste all right."
There were about 10 dishes from around the world, including India, Greece, Japan, Germany and Fiji.
"Surprisingly, even though the food was from different countries they all tasted good together," senior Melanie Richardson said. "Especially the Greek salad because it was a traditional salad, not like how people think it is in America with lettuce. It was just really good."
By Tess Landis