Romney visits Cape Canaveral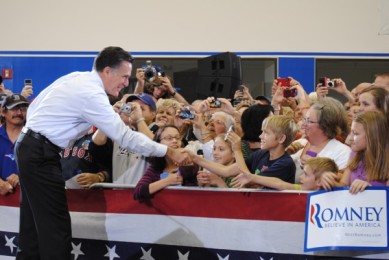 Responding to rival Newt Gringrich's promise earlier in the week to build a base on the moon within eight years, Republican presidential hopeful Mitt Romney vowed to consider refueling the space program with federal help if the budget will allow. Romney spoke to rally of approximately 300 supporters at the Astrotech center in Cape Canaveral on Friday.
Romney added that the United States needs to build a stronger defense force on Earth before considering a return on the moon.
Merritt Island High School freshman Payton Wolff said it was important for her to attend the rally because when she's able to vote she "doesn't want to be another clueless, easily swayed voter."
"When I told my friends I was coming to hear Romney speak, they all looked at me like I was crazy,"  Wolff said. "I wanted to say 'this is your future, how can you not care?'"
Former Pennsylvania Sen. Rick Santorum had to cancel a scheduled visit on Saturday because his daughter has been hosptialized with a chronic illness.
With the Florida primaries scheduled for Tuesday, there are no more scheduled appearances in Brevard County by any of the four GOP presidential candidates.
By Millie Rosasco