Posters promote mental health awareness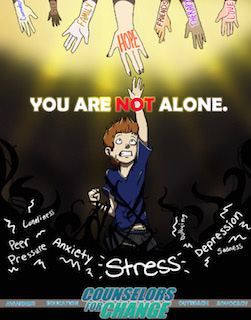 Junior and Digital Art 2 student Cristina Lawson discovered on May 13 that she received an award for the Mental Health Poster Contest, an event raised by the nonprofit organization Counselors for Change to increase mental health awareness, education, outreach and advocacy. The competition, which allows student artists from grades six through 12 to participate, divides the objective of the contest entries into three subtopics: Empower, Inspire and Connect.
"My poster had a boy wrapped in black vines that represent generally unhealthy mental health," Lawson said via email. "The boy is reaching out to hands that represent healthy mental resources. It's supposed to represent breaking out of unhealthy mental health states and reaching out to help. Many people who suffer from mental health issues often feel as though they cannot reach out to others in fear of dragging them down or burdening them. I wanted the feeling in this poster to feel as though no matter how strong someone may think their emotional baggage may be, the helping hands are strong enough to pull them out."
Digital Art teacher Jim Finch said Lawson's artistry skills enable her to excel in the creation of digital art.
"Her work is quite excellent as far as the skill sets to render values and figures," Finch said. "Her color combinations are usually quite good. She's a rock star. She's won numerous competitions and awards. She's an illustrator. A lot of students that I have will be a photographer, some will be graphic designers, but her strength is really in her illustration. She can conceptualize well, her compositions are good, but her execution is always at the top. I can look at her AP portfolio and it just blows me away. Her big thing is that there is real joy in creating. And that's the difference between an average person that likes art and one that really could make a career out of it. There's never a time that she feels like she's working. She's so into the creative aspect of it."
Lawson said she believes the submitted posters and their messages will have positive influences on the public audience.
"Since mental health is such a prevalent thing in teens and young adults it helps to bring awareness through something so open as artwork," Lawson said. "Art catches the eye of someone more than an advertisement or an article would. It can really help some to have the exposure of important information that art brings to the world. People diagnosed with mental health disorders are often pushed aside as a temporary thing or given medication to dampen their disorder. Both of these practices can be harmful in the long run. Getting help like reaching out to family members or counselors in their community might help someone get the help they need for the long term instead of a temporary solution."
By Monica Castellanos