Patch commemorates Project Whitworth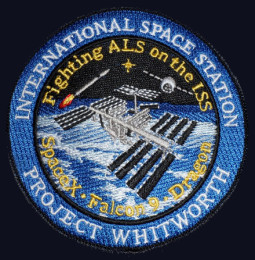 Project Whitworth, started by students in the Brevard area to support a cure for Lou Gehrig's Disease, has announced that embroidered NASA-like mission patches for their experiment scheduled to be flown to the International Space Station in next fall are for sale. The project is named for former West Shore teacher Jason Whitworth who was diagnosed with the disease last year.
"It's a bittersweet feeling for me," Principal Rick Fleming said. "I saw him a couple nights ago at the seventh-grade orientation, and again at the PTA meeting. Every time I see one of these patches, it reminds me of the character he used to be, walking around being the coaching figure. Though it saddens me, it gives me hope that something like this is a step towards finding a cure."
The experiment is designed to investigate the "enzymatic breakdown of glutamate" in microgravity environment, later to be a step toward finding a cure for Amyotrophic Lateral Sclerosis, a disease that affects nerve cells in the brain and the spinal cord.
"I think it's a really good idea toward contributing to Whitworth's cause," junior Hannah Krasny said. "It's something that deserves to go beyond our community. He's an important aspect to our school, and people should support the hope that he stands for."
Embroidered patches are 3.5 inches in size. Patches can be purchased for $10 at https://sites.google.com/site/mccormickwestshore/mission-patches or see science teacher Amy McCormick in Room 4-104.  All proceeds from the sale of mission patches benefit the Whitworth family and the local ALS community.