PANDEMIC PREJUDICE – Asian discrimination linked to COVID-19 outbreak
For many Asian-Americans, the recent racially motivated attacks against Asians have been frightening, but not surprising.
"There's this phrase that goes 'prevention is the best medicine,' and with the rise of these attacks, I am inclined to agree," junior Surina Venkat said. "When people such as [former President Donald] Trump started using phrases such as the 'Wuhan flu' or 'the China virus,' we should have put a stop to that immediately. What that did is normalize hate against Asians, especially Chinese people. And it didn't just normalize it, but legitimized it."
Stop Asian American and Pacific Islander Hate announced in March that almost 3,800 discrimination incidents were submitted to their reporting center from March 19, 2020 to Feb. 28. Of those submissions, it was found that verbal harassment made up 68.1 percent of the incidents. It was also determined that the Chinese were the largest ethnic group to experience hate (42.2 percent), followed by Koreans (14.8 percent), Vietnamese (8.5 percent) and Filipinos (7.9 percent).
"I was shocked to hear about [the] various attacks that have taken place," freshman Rushil Shah said. "I am quite angry to hear that in 2021 these hate crimes are still taking place in such large quantities. Empathy needs to be raised for Asians. What has taken place is devastating and completely inhumane."
For sophomore Ying Tan, the recent attacks against Asians have crossed the line between discrimination and hate crimes.
"I think discrimination is when you think less of someone because of their race, religion or gender," Tan said. "A hate crime is an attack because of these things."
Sophomore Jack Zhao said points to health concerns as a contributor to a rise in violence against Asian-Americans.
"I might be wrong, but I think these hate crimes are driven mainly by the pandemic," Zhao said. "Because COVID-19 originated in China, the attacks were race- based and extremely unjust. Even if the Chinese government didn't do a good job containing the virus, most Asians have nothing to do with the virus spreading so quickly and causing a pandemic."
Freshman Thien-Nhi Nguyen said she hopes the recent attacks cause people to reflect on the mistreatment many Asian- Americans face. She said phrases like "small eyes" or "all Asians are smart" can feel hurtful and less like a harmless joke.
"On social media, I've seen several videos and photos of Asian hate crimes and the consequences it has on the families affected," Nguyen said. "As a second generation Vietnamese-American, I can sympathize because I've seen how hard my family and friends have worked to build their lives here in America. Being a minority, it is already hard to fit in, and these hate crimes don't make it any easier."
Robert Aaron Long shot nine people, killing eight of them, last month at three Asian spas in Atlanta. Some believed he was motivated by discrimination while others accepted a roommate's statement that Long had a sex addiction. Venkat said people have willful ignorance if they don't believe that racism was the ultimate cause for the gunman's actions.
"I'm not saying the sex addiction part is untrue, but that doesn't mean that he wasn't also racially motivated," Venkat said. "And he was so obviously racially motivated. He targeted multiple Asian businesses. Yet there are still people who believe the mass murderer over the six dead Asian women. No one wants to admit racism exists in these situations because that's bad press. It doesn't change the fact that racism is still there."
Senior Bailey Wong said she also believes the recent attacks were race-based.
"The attack in Atlanta that was claimed as the result of a sex addiction, hinges on the racist fetishization of Asian women that have been longstanding in our society," Wong said. "I think we have to recognize that these attacks have been ongoing since early 2020, but also have a long-running history. The forces that brand Asian-Americans as foreign threats are the same thing that killed Vincent Chin [in 1982], interned Japanese Americans and passed the Chinese Exclusion Act. One way or another, these attacks are coming back to race."
The Black Lives Matter movement began as a way to create awareness against police brutality and racially motivated violence towards African Americans. Now, with the start of the new Stop AAPI Hate movement, senior Sirish Ojha said these separate organizations might be causing some confusion by not combining.
"Although I believe the [Stop AAPI Hate] movement is right, I think that it somewhat belittles other discrimination which occurs more often than to Asians," Ojha said. "I feel like the individual movements should unite to fight racial discrimination overall. It just seems like the multiple movements are making us more divided than acting as a group. To put it in better terms, the fight against these multiple discriminations is making it hard for the people to support all of them. All of these movements should combine into one larger movement for the general fight against discrimination as a whole: for race, religion, gender, national origin and sexual orientation with equal exposure to all of them."
Sophomore Anjani Sharma said she's pleased the movements are gaining popularity.
"I believe that Asian discrimination is a serious issue and that it should be publicized more as these attacks have become more common since the pandemic," Sharma said. "I truly believe that all of these racial justice groups have shown significant amounts of change and are helping communities. We should stand in solidarity with the Asian community by raising awareness and helping them during these times."
As Asian American and Pacific Islander Heritage is celebrated each May, Wong said she hopes schools integrate some of this history into their curriculum.
"I wish our school system did a better job on Asian American history overall," Wong said. "We don't talk about Wong Kim Ark, Vincent Chin, Rock Springs, et cetera. Asian American history can teach that we belong here, that we have been here for a long time and that we will continue to be here. It helps dispel the model minority stereotype. It's important. If teachers or administrators want to help the movement, taking the time to talk to their students about just one or two major moments in AAPI civil-rights history will do a lot."
Ojha said he hopes the fight to end discrimination will continue to gain traction.
"The people, not the government, should be making a change," Ojha said. "Not only should the natural born citizens of our country stand up for this, but all of the immigrants, non-citizens and even naturalized citizens in the entire nation. We, the people, shouldn't let them battle this alone, but we also shouldn't take the leading position for them in this fight. Both of these people should be standing together at the forefront against this battle of discrimination, not as groups, but as individuals."
About the Contributor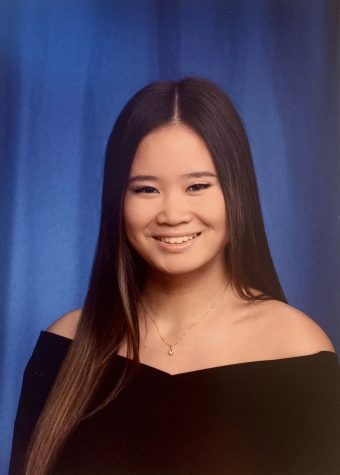 Keira Coleman, Staff Writer
I am super excited to be a part of staff for my senior year.

When I'm not writing, you can find me in the kitchen cooking ramen.