Girls' bathroom erupts, causes massive overflow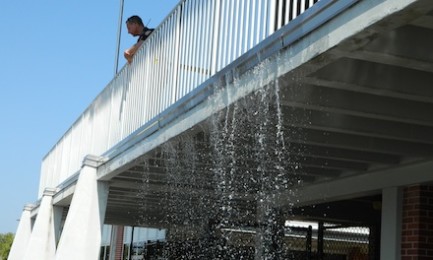 A seemingly routine trip to the restroom quickly escalated into an event senior Christy Hernandez will be unable to forget. The building two girls' restroom was flooded after a main water valve burst, causing an overflow that carried out of the restroom and off the nearby balcony.
"First I heard the toilet keep flushing itself," Hernandez said. "Then all of a sudden a monstrous noise swelled from who knows where. Then the toilet explodes and there's a huge water gusher like one out of a movie."
Many of the teachers rushed to capture photos and find out what had occurred.
"I was going over a test with a student when I heard a loud commotion outside. We walked out and saw a cascade of water coming down from the second floor," Spanish teacher Luis Martin said. "Whenever students ask me what happened, I joke that it was a senior prank: part two."
A chaotic day for the school's custodial staff began with the cleanup of hundreds of balloons and mounds of confetti due to the senior prank the night before. The added stress of cleaning up gallons of water was unwelcome surprise.
"We're an old school and as an old building, a lot has been needed to be replaced," vice principal Jim Melia said.  "The pipe in the bathroom had reached its toll. It was West Shore's own Niagara Falls. Other than custodians getting soaked trying to turn the water off, everything was okay. It was good that no one got hurt."
Melia telephoned the District Emergency Hotline, and another custodian from the district came out immediately and was able to fix the pipe.
"The pipe has been fixed but the students will have to walk around that side of the building for the remainder of the day," Melia said.