Gingrich touches down on Space Coast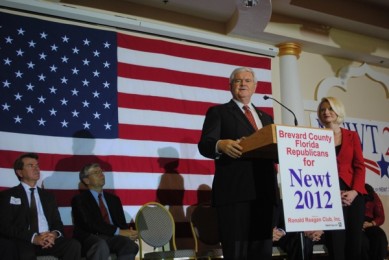 Firing up the Space Coast and space industry leaders, Republican presidential candidate and former House Speaker Newt Gingrich visited Cocoa on Wednesday at the Holiday Inn Express Space Coast Convention Center. Florida's Republican primary will take place Tuesday.
Gingrich spoke primarily about his goals of restarting the space program, vowing that "this will be the second great launch of the adventure John F. Kennedy started." He added that if elected he would push for a permanent base on the moon.
Among the estimated 2,000 supporters who attended the rally was Barbra Marks, a businesswoman from Las Vegas,  who has followed the Gingrich campaign since the beginning.
"This is the most important election of your lifetime," Marks said, "I saw the rough times and the golden years, but we struggled too during [President Jimmy] Carter's time. I've been a business woman my whole life, opening my first business at 14, so I made it the hard way. Why and how I became a Republican is a long, long story but they hold my values at heart. I think to appreciate something you must work for it, and I know that Newt Gingrich is working very hard to win this nomination."
Fellow GOP candidate Gov. Mitt Romney of Massachusetts plans to also make a stop in Brevard County today in Titusville at 4:35 p.m. Neither former Pennsylvania Sen. Rick Santorum nor Texas Sen. Ron Paul, the other GOP candidates, plan to visit Brevard.