Ditching e-learning
Students, faculty and staff long for return to in-person schooling next fall
As sophomore Jack Zhao enters his second semester, he draws closer to the end of a school year he never could have predicted and one he surely will not be forgetting anytime soon. With the unprecedented COVID-19 pandemic, Zhao was left with no choice but to continue school from home through e-learning.
The lonely image of Zhao sitting at his desk as he dials into his classes is a sharp contrast to the usual education dynamic he had in previous years. Regardless, Zhao managed to adjust. E-learning has yet to be confirmed as an option for the 2021-2022 school year. Because e-learners have taken a gap year from in-person classes, they may have to acclimate to an in-person school environment in the Fall.
Zhao said he welcomes that transition.
"I am looking forward to it because I think I would learn much better and could be with my friends again," he said. "I'll have to get used to it again since e-learning is very different from in-person learning. At home, we have much more freedom and a lot fewer restrictions. Most teachers don't even need to see us. It will definitely take some getting used to, but I'll just have to go with the flow. I'm sure I'll be used to it after a month or so."
Freshman Shaila Venkat sees both pros and cons when it comes to shifting to in-person classes next year. 
"I am excited to see my friends in person, but I'm a little worried about the academic aspect because I've gotten so used to learning online over the past year," Venkat said. "I am still looking forward to it, if not for the sole reason that I get to see other human beings. I do think that it will take some adjusting to, as the style of learning and teaching varies drastically from online to in-person classes. I think getting used to learning in a classroom is probably going to be the weirdest part to adjust to, just because I'm so used to staring at my computer 24/7. I have started doing more work on paper just to try and get used to it again to ease the transition."
After spending nearly a year teaching a portion of her classes through computers, Athena Pietrzak, an AP US History and AP Psychology teacher, said she will be happy to see e-learning go away.
"All students attending school next year is the right call," Pietrzak said. "If a student wants to continue e-learning, Florida Virtual School is a great choice. It is too difficult to split the teacher in each class. Quite often the class activity cannot be modified and I feel like both sides lose in this case. I am looking forward to [students coming back] because I can't wait to see everyone here and meet the students online that I don't know."
Pietrzak said that while it may be difficult at first for e-learners to readjust themselves back into in-person classes next year, they will eventually get the hang of it.
"It will be hard for the students  who spent the entire year e-learning if there were learning gaps created by lack of time and attention to material," she said. "It could be difficult for that student upon return, but this campus is an excellent learning environment and once that student is back they will bounce back into the style of on-campus learning quite well. It is a memory function that will come back easily. I think everyone will see this as overall positive and beneficial. We need our Wildcat family support."
Pietrzak also said her experience with e-learning have an upside.
"There have been some great strides in technology," she said. "I have learned how to utilize AP Classroom and Google Classroom to benefit all my students. A perfect example would be allowing students to turn in work with an evening deadline, similar to most colleges, which allows those who have things after school a bit of leeway. I used to have assignments due at 5 p.m. when I left campus, but now I can make it at 9 p.m. or even later to allow those going to practice after school to come home, eat, and then homework. I can also set test times for those who need extended time or were absent to take at home."
Principal Rick Fleming said he looks forward to leaving e-learning behind as students enter the next school year largely because of concerns about academic integrity. 
"The e-learning model has certainly served its purpose in providing flexibility during this pandemic," Fleming said. "Although no official word has come down from the district leadership on whether or not it will be available, I do have concerns about the academic integrity and genuine nature of work students produce. Without going as far as saying the word "cheating," I definitely worry about the authenticity of student work and the full mastery of content as a result."
Fleming said there may be some difficulties when it comes to e-learners readjusting themselves into an in-person environment.
"I do feel like our students are very academically resilient," he said. "However, even in the best circumstances with e-learning, I do feel there will be some gaps in the mastery of content."
Fleming said that with extra measures, the school would be adequately prepared to reopen its doors for all students next year.
"While I have shared concerns about student and staff safety and the inability to properly social distance with the elimination of e-learning options, I do feel we have become very acclimated to safety protocols," he said. "I also hope and pray that our powers that be [can] find a way to vaccinate our staff, which would give all of us an extra measure of confidence in heading back full steam. With these considerations in mind, I would welcome a return to full brick-and-mortar instruction."
About the Contributor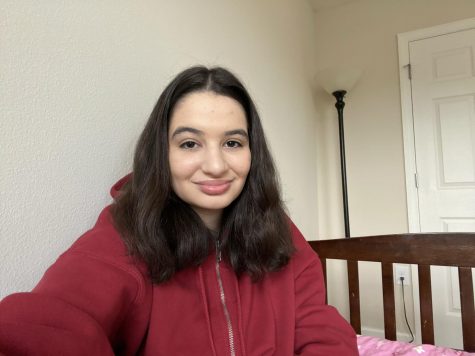 Aytek Abdulla, Social Media Editor
I am a third-year writer for the Roar magazine, and this year's social media editor. Additionally, I co-run the Roar Instagram page. I love to write and...