Committee struggles to define short shorts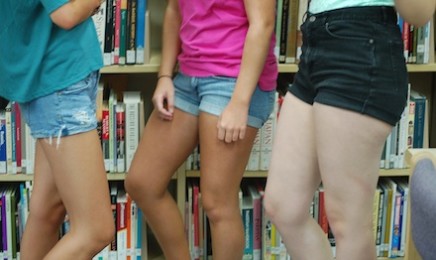 Two-inch inseams, above mid-thigh is too high, the garment must be appropriate to the build of its wearer. It seems that figuring the appropriate length of girls' shorts is more difficult that it might seem at first glance. In fact, the question of how to address the appropriate shorts length dominated  much of a recent dress-code committee meeting.
"The biggest discussion was on the shorts and whether or not we're actually going to come up with a solid definition of what is considered long enough," Assistant Principal Jim Melia said. "When we look at it, in my opinion, it's just too subjective. It's just a very difficult thing."
Sophomore Ashleigh Rabel said she doesn't think short shorts are such a big problem.
"I think that it's OK to wear short shorts as long as they're not showing anything," she said. "So many girls wear them. It would be really difficult to get every single person to stop. I don't think they're really disrupting."
The committee is taking into consideration that buying shorts of appropriate length can be difficult.
"Somebody wanted to make a rule that said 'well let's say that the shorts have to be 2 inches above the knee.' I said 'I challenge you to go out there and find a store that our kids would like to shop in, that has shorts that are 2 inches above the knee.' That's hard to find," Melia said.
Rabel knows how hard it is to find shorts that are long enough to wear to school.
"It's near impossible to find what the school calls 'acceptable' in the store nowadays," she said.
Melia said the dress code committee also is concerned about girls wearing leggings in place of pants to school.
"Right now, we have a lot of kids who are wearing leggings as an outer garment," Melia said. "And that's not what the dress code says."
Sophomore Brianna Silvestre said that she doesn't have a problem with the new trend.
"I don't mind leggings as pants," she said. "They're comfortable, they're easier to put on than jeans, and they cover more than a lot of girls' shorts."
The dress code states that "spandex tights and leggings are considered stockings and will be covered with the appropriate outer garment."
"The [prohibition against] leggings is in the dress code," Melia said. "We just haven't enforced [the rule] properly."
By: Autumn Scheer