BPS honors civil rights leaders it once fired
Brevard Public Schools is making amends for the unjust firing of Civil Rights activists and teachers, Harry T. and Harriette V. Moore. On Dec. 25, 1951 the couple was killed on their 25th wedding anniversary after a bomb detonated underneath their house in Mims. The Klu Klux Klan planted the bomb as a message to the Civil Rights activists: Racial equality had no place in Florida.
Seventy years later, on Feb. 24, the school board voted 5-0 in favor of incorporating the Moores' legacy into Brevard's school curriculum, as well as implementing an eighth-grade field trip to the Harry T. and Harriette V. Moore Cultural Complex in Mims. The Moores' teaching contracts were not renewed in 1946, due to their political activism. The resolution "acknowledges [the Moores'] unfair firing by the school board in 1946" and will make the Moores Brevard Public Schools Teachers Emeritus.
"Most people find it very difficult to reconcile that as a Chrisitan nation, there would be people that were so mean-spirited as they would plant a bomb under someone's house on the same day that we celebrate the birth of Jesus — and kill them," President of Cultural Complex Board of Directors, William Gary, said. "There have been chapters in the history of this country, and particularly in the state of Florida people, [where] think about the beaches and palm trees and planting orange groves and easy living. But Florida has a dark side to its history."
The Brevard Federation of Teachers partnered with the Cultural Complex and the district to encourage make the resolution as part of Black History Month.
"With recent events, it became clear that we needed to start addressing some of the past injustices of the county in order to start addressing current ones," BFT president, Anthony Colucci, said.
Colucci said BFT worked with the District's Director of Equity and Diversity and lobbied school board members to solidify the proposal. Colucci said Harry T. Moore's role as District 4 President of the Florida State Teachers Association, which merged with the Florida Education Association in 1966, inspired him to "always be bold and courageous and work incredibly hard to organize to correct injustice."
"I've applied the lessons that the Moores taught to my work," Colucci said. "As a teacher in North Brevard County, I instilled in my students the importance of voting and exercising their rights. I taught my students the importance of democracy, freedom, equality, Black History and current events. And as a union leader, there are lessons that I learned from the Moores as well."
Harry T. Moore founded the National Association of Colored People's first branch in Brevard County in 1934. He was principal of Titusville Colored School where he supervised a staff of six teachers from 1927 to 1936, and principal of Mims Colored School from 1936 to 1946. In 1944, he co-founded the Progressive Voters League and registered 116,000 Black Floridians to vote. Gary learned about the Moores in 1980, when he became the president of the North Brevard NAACP branch and attended the annual Harry T. Moore Memorial Service.
"Long before Dr. Martin Luther King [Jr.] took up the Civil Rights battle, long before Malcolm X was a civil rights icon, and many others, there was Harry [T.] Moore and his wife, Harriette, who were advocating for fair and equal justice for Black citizens," Gary said. "Although it was pretty much confined to the state of Florida, they were pretty much challenging and addressing those issues such as voting rights, such as police brutality, lynching of Black citizens, unequal salaries and inferior education is schools for Black students. So they were laying the groundwork for all the civil rights battles we would see over the years."
Superintendent Mark Mullins addressed the proposal during the school board meeting, and Russell Bruhn, of the Strategic Communications Office, read the proposal.
"Now, therefore, be it resolved, that the Brevard County Public School Board publicly acknowledges the unjust act of refusing to renew Harry T. and Harriette V. Moore's teaching contracts by the serving School Board of 1946, and will forever recognize the Moores for their outstanding service and significant contributions as noted above to the Brevard County School District, State of Florida and the nation as educators, civil rights activists and martyrs of the modern civil rights movement through posthumously recognizing the Moores as Brevard Public Schools Teachers Emeritus," Bruhn said.
Gary said the eighth-grade field trip will open students' eyes to local history.
"For most first-time visitors [to the complex], they are quite amazed at the beauty of the park and the trees and the surrounding area — the quietness and the peacefulness," Gary said. "Once they go inside, and after looking at some videos, they go to the museum and for most adults it brings them back to a time that many people would rather forget. The time of lynchings, the time when people were beaten because they tried to exercise their right to vote as United States' citizens. And they see photos of the bombed home on Christmas night."
The school board made comments and adjusted the proposal's wording before it was unanimously approved.
"I think that history, when it is told in its entirety, when it is inclusive, it is the one thing that levels the playing field," Gary said. "It lays out the facts of what happened, and it gives credit to those that helped make things better or worse. From that perspective, history plays a very important role in our culture and in our intellectual capacity of a nation."
According to Gary, Florida statute requires that every school district implement African American history into its curriculum. It is up to each district as to how the Moores' legacy will be taught.
"I'm excited to know that all of Brevard County's students will learn not only about the character of the Moores, but the work they courageously did to advance civil rights in our community, state, and country," Colucci said.
The updated curriculum and eighth-grade field trip will be incorporated into schools for the 2021-2022 school year.
"Justice prevailed and a shame was lifted from our county," Colucci said.
About the Contributor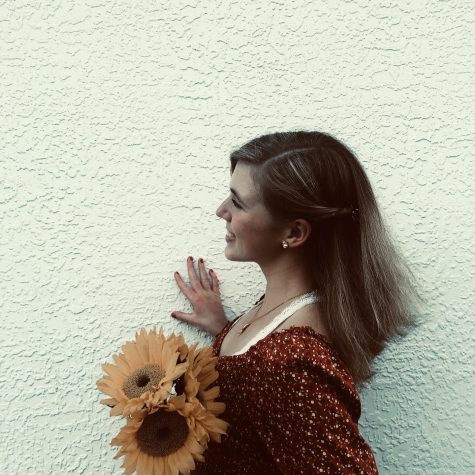 Sophia Bailly, Editor in chief
This is my third year on the "Roar" staff and my second year as editor in chief. I enjoy covering social and political issues and hope to cover international...