Assistant principal to leave for new job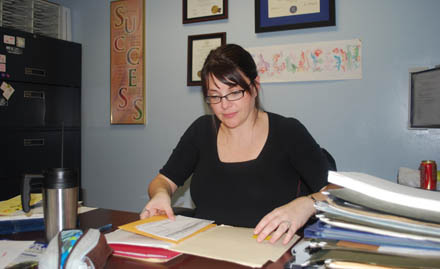 At assistant principal Jackie Ingratta's recent baby shower, she made the announcement that she will be accepting a job at the school district, effective immediately.
The job hunt is on, with the job advertisement closing on March 6, and resume review beginning on March 7. The top candidate for the position likely will be announced at the board meeting on March 11.
Principal Rick Fleming added his personal thoughts about losing his assistant principal.
"Losing Mrs. Ingratta for me is like losing my right arm," Fleming said. "My right arm is my dominant hand. I lost my left arm earlier this year, as many know, we lost [Jim] Melia, so, at times part of me feels like I'm going to be armless."
According to Fleming, however, the assistant principal position is one that is quickly cycled throughout school years.
"As far as Mrs. Ingratta is concerned, if her leaving wasn't going to happen now, I'm pretty confident that I would've been forced to push her out of the door over the summer, not because I am mean or would ever want her to leave us, but because my job is to prepare new assistant principals to step up and be principals," he said.
Ingratta had been scheduled to go on maternity leave at the end of March and be out the remainder of the school year.