AP Bio students explore UF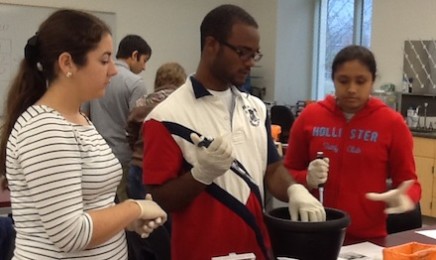 Advanced Placement Biology teacher Angela Feldbush and her class recently took a field trip to the University of Florida to participate in a molecular biology lab that provided them access to state-of-the-art equipment.
"The students had a great time on the trip and learned a lot about science and the college experience," Feldbush said. "The students learned more about DNA and the origins of restriction enzymes as well as more about research opportunities available to high school students."
The class spent the night in Gainesville, attended a basketball game and toured the campus.
"The experiment was an interesting experience and informative compared to what we are limited to in the classroom," junior Anuj Mehindru said.
But for some, the science took a back seat to UF taking on Kentucky in a battle of Southeastern Conference powerhouses. The Gators won the game 69-52.
"It was great to see the college experience, but watching the basketball game was definitely the best highlight of the trip," senior Dave Foster said.
Junior Krunal Patel called the game a nice break from the rigors of the science-lab work.
"The game was exciting and made the trip very worthwhile," he said. "It was relieving to have the opportunity to do something unrelated to biology in Gainesville."