Agriscience Club touts Earth Hour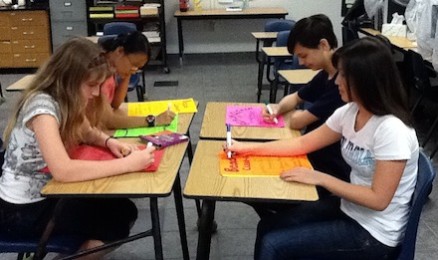 If you love the earth, you should be prepared to sit in the dark for an hour. That's one of the messages put forth by the Agriscience Club an newly formed organization that strives to educate students about the agriculture around the world. The club met Monday to discuss various courses of action needed to meet its goal of educating the public.
"We talked about the Earth Hour which is March 23," senior Michelle Chin said. "Basically, at 8:30 p.m. local time on March 23, people from all over the world will be turning off their lights for one hour to show their commitment to the Earth. I am trying to spread the word as much as possible through my friends and announcements, so that everyone can take part in it."
Chin founded the Agriscience Club a few months ago, hoping to make students more aware of how environmental factors can affect food production.
"Right now, we are focusing on food shortages and malnutrition around the world," she said.
The meeting also included discussion of essay and drawings contests sponsored by the Texas A&M University Chapter of Sigma XI, the Research Society. This society focuses mainly on promoting research among young, scientific scholars.
The students in the Agriscience Club are going to try to compete in one or both of the contests. One requires students to draw a picture of an invention that will create new energy or that will save energy and the other asks students to describe their life in a world where abundant and affordable energy is no longer available. The due date for both contests is April 15.
By Ashleigh Rabel