Academic Team wins district tournament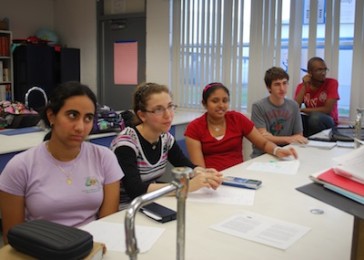 After finishing second in district competition last year, the school's Academic Team vowed that it would do better next time. Last week, it lived up to that promise.
"I was ecstatic when we won," co-captain Eran del Castillo said. "We actually found out we were going to win before the match even ended because Brandon Bailer was keeping a tally of all the team's scores, and we calculated that the second-place team couldn't catch up no matter how they answered the question. Even though I already knew we won, I still screamed when they announced the results."
In total, the team has three captains, seniors Michelle Chin, Varun Bansal and del Castillo, each who are responsible for different aspects of managing the team.
"I'm in charge of setting the lineups for the match, deciding which five people will sit in for each of the three rounds and whether or not we need to substitute people in halfway through," del Castillo said. "A lot of it is knowing everyone's strengths to make sure we have a balance of math, science, forgein language, art, history and English in all rounds, and which people work well together."
Team sponsor Angela Feldbush was also pleased with the win.
"We all felt good going into the district competition," she said. "Even though we finished in third place for the season, our average score was higher than all the other teams, and we were on an uphill path. On the night of the district tournament, we were definitely on a roll.  By the time the third round was under way, it was becoming increasingly clear that we were not going to be stopped. Our final score was 224, 48 points above the second-place team, Edgewood."
The Academic team competes against 16 other Brevard County teams in matches held at the school board offices in Viera each Monday during the season which runs from September to December.  Teams are then ranked by their place finish and final scores.
"Because West Shore won the district competition this year, I get the honor of serving as one of the coaches of the state team," Feldbush said.  "The competition is at Disney World in April. Brandon Bailer will be there along with players from the other top schools in the county."
By Keiran Sheridan