Abdulla takes top prize in science fair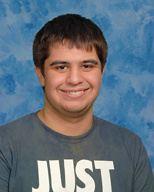 After winning Best in Fair at the 18th Annual Orlando Science Center Science Challenge on March 19, sophomore Muhammad Abdulla was awarded $4,000 for his science experiment, which focused on creating a mathematical method of analyzing medical data and trying to identify abnormailty present in electrocardiograms.
"The main goal of the project was to find a way to analyze medical data more accurately," Abdulla said. "One of the biggest problems today concerning the analysis of medical data is the fact that a lot of it is subjective, and it can change from doctor to doctor. That is one of the primary reasons why we have over 700,000 heart attacks in the U.S. every year and 60 percent of them are fatal."
The procedure for his experiment involves taking large sets of data and analyzing what a healthy cardiogram's characteristics would be in terms of measurements such as the amplitude and period of a wave. Brownian motion and probability theory were then used to map out the probability over time that certain waves would stay within their respective healthy ranges.
"It would be more precise and repeatable because you wouldn't have to change the methodology according to the patient," Abdulla said. "Not only would it be more accurate, but it would also be absolute."
Afterward, Abdulla was able to assign a probability of an electrocardiogram over time maintaining healthy characteristics, which were defined by doctors. The final step was to test his new method against the traditional methods being used, which come from the early 1900s.
"There was a high statistical correlation between my methodology and the traditional methods," Abdulla said. "I was actually able to decrease the false negative and increase the false positive with my methodology."
In the end, Abdulla's efforts resulted in two awards: the title of Best in Fair went to Abdulla himself, and science teacher Paula Ladd was crowned the winner of the Teacher Award, allowing her to claim $1,000 for the school's research program.
"I was really excited when he won," Ladd said. "I think he has won before, and it's always exciting. He does great work."
Abdulla's own prize manifested in the form of something akin to a scholarship worth $4,000.
"Its not exactly a scholarship," Abdulla said. "As soon as I graduate in my senior year, I write a letter to the science center, and they send me a check for $4,000 cash. It will most likely fund my textbooks for a few years because that can get kind of expensive, and the rest will just be spending money."
While nothing is set in stone in regard to future plans, Abdulla wishes to attend college and continue to pursue his dreams there.
"I have no idea what I want my occupation to be," Abdullah said. "Obviously I want to go to a good, high- level college and get a good scholarship. My biggest goal would probably be to get a doctorate degree, but that would take some time. Right now my options are pretty open, so I'm going to enjoy that."
By Elizabeth Marrin