Math teacher reunites with homeroom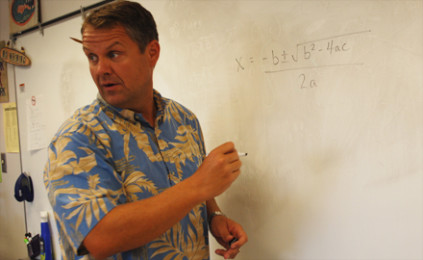 A familiar face puts one senior homeroom class to ease. Returning math teacher and assistant swim team coach, Don Gornto,  will be retaking the postion as homeroom teacher for the group he led in 2008, one that has had three different teachers.
"It was nice to actually know my homeroom teacher," senior  Ciera Misner said. "I got tired if re-meeting them. Especially since they are meant to be someone we're familiar with, and can communicate with,  throughout our middle-school and high-school careers."
Senior Shawn McKeefery also welcomed Gornto's return.
"I was really excited, " he said. "He's definitely my favorite of all our homeroom teachers."
Gornto transferred back to West Shore from Eau Gallie High, after initially leaving for an opportunity to teach on a U.S. Marine base in Japan.
"I felt so disconnected at Eau Gallie, " Gornto said. "It's so nice to teach and coach for the same school. It makes communication so much easier. I was really excited when [Assistant Principal Jackie] Ingratta told me I would be able to have the same homeroom as well."
Gornto said his reason for going to Japan was to give his children the chance to experience another culture.
"I felt that the experience was invaluable, and far superior to what culture you could gain from reading any book," he said. "The people we met there were so nice. We also gained a great appreciation for the armed forces we met there. They sacrifice so much for our freedom. It was horrible to see the effects the earthquake and tsunami had on all these people."
Though he coached for West Shore shortly upon returning to the United States, Gornto had to wait a while for his current teacher position to open.
"It's so great to be returning to a school with such great staff, admininstration and such high academic standards." Gornto said. "It will also be nice for my kids to go here too ."
Gornto plans to bring a more positive and worldly attitude to his math class,  because he feels that math gets a bad rap.
"Math is essentially just following instructions," Gornto said. "My ultimate goal is to make math fun."
Gornto also looks forward to what he expects to be a successful swim season.
"We have a lot of new people from last year — and this year — to build with," he said. "That, combined with our strong group of upperclassmen and their leadership, should result in continued success."
By Nick Baker, Roar staff