Disc golfer's passion takes flight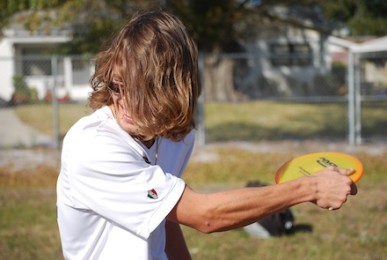 When Sam Dornbusch found his favorite golf disc the day after he lost it, he was happy. But when he casually threw it towards hole No. 1 and ended up getting his first ace in disc golf, he was ecstatic.
"I could feel that it was a good throw from the snap of my fingers," Dornbusch said. "I heard my disc smash into the chains, so I turned around just in time to watch it come to rest in the bottom of the basket."
He had all of his friends who witnessed that ace sign the disc now displayed in his room like a trophy.
Dornbusch began playing disc golf after his older brother, Spencer Brice, who plays with friends in college, taught him the sport during a break from school when Sam was in seventh grade.
"We were looking for things to do other than things that might break the law," Dornbusch said. "So my brother took me out to play disc golf. I had no idea what it was, but I started playing and getting good at it. It is pretty fun."
Disc golf is a major part of Dornbusch's life now.  He plays so often at Malabar Disc Golf Course that he sometimes forgets to do his homework.
"He is really chill, and likes to play disc golf," junior Jaclyn Martin said. "Contary to what people think, he's actually really smart. He just opts not to do his homework."
While Dornbusch clearly is serious about his hobby, he's not above goofing around.
"One time someone threw one of my discs on someone's house, and I decided to go get it since no one was home," Dornbusch said. "It was at night and I walked like a ninja across the roof. I think there were people in another house watching me from their porch and to them I must have looked pretty goofy."
Junior Logan Canady, one of Sam's friends whom he became "tight" with through disc golf, says he is an easy person to get along with but sometimes does some things that are a little out there.
"Sam's a pretty laid-back person who is chill and cool to hang with," Canady said. "He's awesome at disc golf but a little bit of a nutcase. I'm glad I started talking to him and became friends with him this year."
By Lauren Youngson