'WandaVision' has Disney+ moving in the right direction
The ever-expanding Marvel franchise released its first Disney+ original "WandaVision" on Jan. 15. Disney will release one to two episodes each week until March 5. The budget for each of the 9 episodes was $25 million. Judging by the popularity of the show every cent was worth it. 
After being revived in "Avengers: End Game," Wanda Maximoff finds herself married to her partner, Vision, who is supposed to be dead, in the 1950s. Memory of their past reality appears to have vanished, and the couple moves through the decades by replicating classic sitcoms.
 "WandaVision's" original plot is refreshing. Traditional superhero plots are repetitive and is overdone, so it's nice to have some unpredictable content. Each episode is perfectly crafted to keep audience members on their toes as the agents investigating Wanda's situation are asking the same questions as viewers. Audiences relate to the characters who are uncovering the mystery, which makes the show more enjoyable.
A majority of the main cast was featured in other films as side characters, such as Darcy Lewis from the "Thor" movies and Agent "Jimmy Woo" from "Ant-Man and the Wasp." Problems arise when viewers wonder if any of the content in "WandaVision" will be significant in future Marvel films. Where will this leave fans who do not have Disney+? Past Marvel TV shows like "Daredevil" and "Marvel Agents of Shield" steered clear of including characters into films. But Marvel TV shows have never been about an actual Avenger before. The new series "Loki," coming to Disney+ in May, showcase the Asgardian God, Loki, in another timeline and avoids interactions with other films. But it's unclear how "WandaVision" or the "The Falcon and the Winter Soldier" will manage to avoid this.
You may be getting confused with all the characters, shows and films being mentioned. The Marvel Cinematic Universe has rapidly expanded for over a decade now and it's starting to get muddy. There are just too many people for anyone who is not a die hard fan to keep track of. It was only made worse when the subject of time travel and alternate dimensions were brought up in the more recent films. "WandVision" is now bringing back Quicksilver, who died in "Avengers: Age of Ultron," but with a twist. Wanda's brother is cast in her sitcom reality as Evan Peters who plays Quicksilver in the "X-Men" movies. Does the MCU intend to include X-Men such as Deadpool and Wolverine in Avengers films?
Despite the MCU's current stance, "WandaVision" is engaging, unique and undeniably entertaining. But it's also cryptic and confusing when put into the context of the other films. If you are a Marvel fan who has not started "WandaVision," now is the time to catch up because "The Falcon and the Winter Soldier", "Loki" and who knows what else is just around the corner.
About the Contributor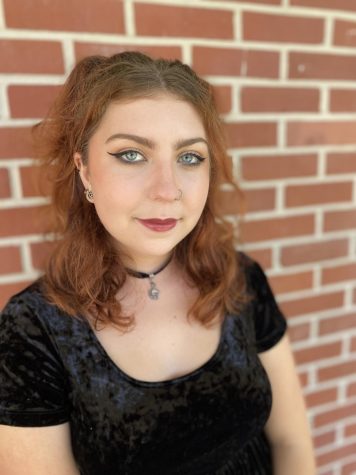 Violet Chace, Entertainment Editor
This year I am a senior and I love sharing my opinions on the newest TV shows and movies that come out.