Swift's storytelling at forefront of 'Folklore'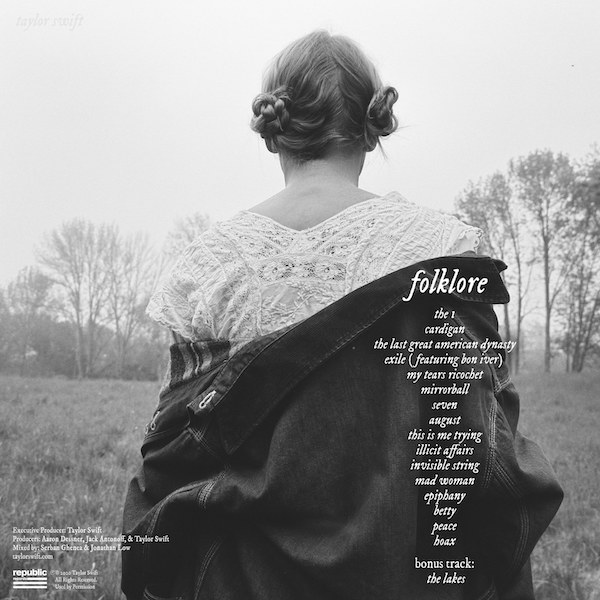 Music fans everywhere were experiencing a "cruel summer" due to the ongoing pandemic. People were trapped in their own boredom because of quarantine and had no new songs to help escape their dull reality. The music industry slowed to a halt and, like with most everything this year, no one really knew what to expect.
But on July 23, pop-icon, Taylor Swift, revealed on her social media that she was going to release an album at midnight titled "Folklore" It was a huge surprise for "Swifties," Taylor Swift's fanbase, worldwide and the music industry in general.
Throughout history, plagues have proven to bring out creative genius from writers, scientists and artists from the likes of Isaac Newton and Frida Khalo. Social isolation led to imaginations running wild. For Taylor Swift, this was also the case. The album had been entirely written and recorded during quarantine.
According to Swift, the production of the album started with images and stories that popped into her mind and grabbed her attention.
"Stars drawn around scars. A cardigan that still bears the scent of loss 20 years later. Battleships sinking into the ocean, down, down, down. The tree swung in the woods of my childhood. Hushed tones of 'let's run away' and never doing it. The sun-drenched month of August sipped away like a bottle of wine. A mirrored disco ball hovering above a dance floor. A whiskey bottle beckoning. Hands held through plastic. A single thread that, for better or for worse, ties you to your fate," Swift wrote in her letter that she posted to her Instagram shortly after the album was released.
As stated, the imagery in her head contorted into faces and names and slowly became characters. While some songs detail Taylor's own experiences, others tell stories through new perspectives of "people I've never met, people I've known, or those I wish I hadn't."
The album signifies a change in genre from what most expected from the upbeat pop-princess. "Folklore" instead is an indie-folk, alternative album. This change in sound was remarkable and a welcome surprise. While I am a sucker for Swift's iconic pop bops, I sincerely hope she continues to explore this genre, as it has allowed her to create some of the best songs of her career. Swift's vocals work flawlessly with the sonic aspect of this album. Folklore mainly features slow-paced instrumentals driven by piano and guitar while also paying homage to Swift's country beginnings in her song "betty."
The strongest aspect of "Folklore" lies in its lyricism. Swift's incredible ability for lyric writing is nothing new; however, it's often a talent of hers that goes unnoticed. Through the passionate and thought-provoking lyrics, each song provides vivid imagery for the story it tells. Songs such as "cardigan," "august" and "betty" detail the three perspectives of a classic high-school love triangle and "seven" tells of a childhood friend you think you'll spend the rest of your life with but eventually leaves your life. The beauty of "Folklore's" storytelling is that there isn't a single narrative. It contains various interpretations impacted by the listener's own personal experiences.
One of the best parts of "Folklore" is how Taylor draws comparisons in the stories she tells to her own life. "mad woman" centers on a widow who gets revenge on a town that exiled her and treated her poorly. Swift connects this concept to the past years of her career where the media treated her ruthlessly and her fights with Scooter Braun and Scott Borchetta over the ownership of her music and the notorious drama with rapper Kanye West. Similarly, "the last great american dynasty" tells of a woman named Rebekah Harness who, like Swift, was harshly criticized by the public and blamed for several things that she was not responsible for.
Each of the stories found within the album are creative and brilliant. There isn't a single song in "Folklore" I dislike, each is special and beautiful in its own way. I found myself listening to the album on repeat well after its release. It took me a while to choose my top three songs. With a myriad of masterpieces on the album, I can only narrow it down to four favorite songs. After months since "Folklore's" release, I can confidently say that my top four songs are "cardigan," "betty," "my tears ricochet" and "august" — in no particular order. These songs are absolutely mesmerizing in terms of their acoustics and lyricism.
In her recent Netflix documentary "Miss Americana," Swift said she believed 2019's "Lover" would likely be her last chance to succeed with a mass audience.
"We do exist in this society where women in entertainment are discarded in an elephant graveyard by the time they're 35," Swift said. "This is probably one of my last opportunities as an artist to grasp onto that kind of success, so I'm reaching thirty and I'm like I want to work really hard while society is still tolerating me being successful."
Contrary to Swifts' belief, "Folklore" has broken and continues to break records. Within one day, 1.3 million copies of the album were sold. The album debuted at number one on the Billboard 200 chart. With a whopping 80.6 million streams, Swift broke the record for the greatest streams on an album on its first day for a female singer. As of now, she's tied with Whitney Houston as the female artist with the most weeks at No. 1 on the Billboard 200 albums chart. This was all done with absolutely zero promotion prior to the release of the album.
The album is making history, and rightfully so. With beautiful yet somber songs that tell stories that will move you to tears, this is by far Swift's best and most intimate work. "Folklore" captures the feelings of nostalgia, heartbreak, innocence, insecurity, loss and love perfectly. Furthermore, this album delivers both lyrically and sonically. I still cannot wrap my head around the fact that Swift basically wrote this album just for fun during quarantine. The talent this woman has is simply indescribable. I encourage those who have not yet listened to this album to give it a listen. I promise you, it is worth it.
While trapped within the confines of quarantine and social isolation, Swift has created another stunning jewel for her discography and what many critics are calling her greatest album. With this new album symbolizing a stepping stone into another chapter of her career as an artist, it is clear that she still has tricks up her sleeve and that the best is yet to come.