'Seussical' opens Friday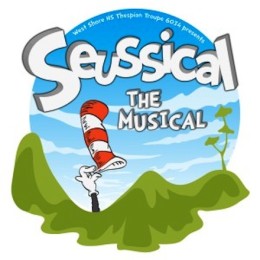 There have been sightings of truffula trees, Things, and Whos from Whoville around the auditorium lately and they all point to one thing: Dr. Seuss. The theater program is currently preparing for their high-school musical "Seussical." The story features many of Dr. Seuss' classic tales, including "The Cat in the Hat," "How the Grinch Stole Christmas," "Green Eggs and Ham" and "Horton Hears a Who."
"I am really glad 'Seussical' was chosen to be the spring musical because it's a very fun show, and I am happy I get to do it as my final high-school show," said senior Benjamin Moore, the actor who plays the Cat in the Hat.
The show includes a two-story set designed by David Robertson, a college graduate with a degree in performing arts from Illinois State University. He started designing set for West Shore this school year and also runs the lights and microphones for the show with the help of the rest of the "techies" or stage technicians.  The show also features a pit orchestra conducted by senior Robert Edmiston.
"[The set] is beautiful because it includes stairs, giant books and a waterfall," senior and stage technician Callie Heuser said.
"Seussical" will be performed at 7 p.m. Friday night,  at 2 p.m. Saturday and at 7 p.m. Saturday. Tickets are on sale all week in the cafeteria for $10.