Ross' new 'Black Market' nothing special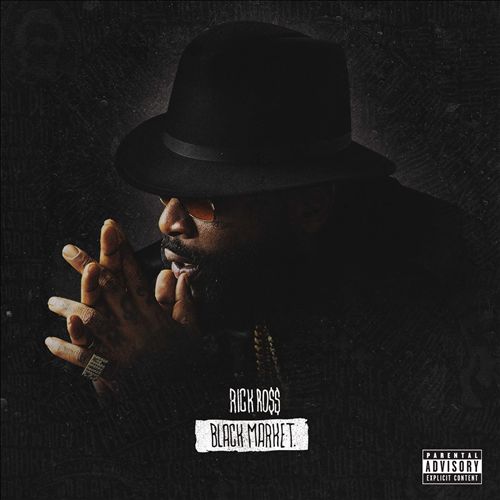 Rick Ross' eighth album falls short in terms of anything new. It seems every song he releases sounds about the same. A hypnotic, synthetic opening with Maybach music uttered before the first verse starts and from there the run-of-the-mill rap song tackling the same issues and transgressions.
Ross' opening track "Free Enterprise" tries to refine the usual grunted songs most are used to and does so successfully, but "Smile Mama, Smile" digresses the otherwise reserved sound into his niche of excessive bass, snare and a powerful voice. There is no main plot to the album, rather a culmination of songs ranging from Ross talking about ghostwriting for someone, which basically sounds like an ad placement for anyone struggling in a rap career, to apologizing to his mom for his improprieties. "Color Money" propels the album forward with a quick, no-break flow that'll leave you behind if you don't pay attention. The use of synths also creates a powerful and ominous track that shows off Ross's exuberant power. On the other hand, there's "Silk Road," recounting the struggles of having to sell drugs — hence the name of the album — to get by in a low-income, high-crime areas. High-pitched synths are also used, this time emitting a kind of serene feeling as if Ross is in some flashback or vivid dream.
"D.O.P.E." featuring Future, who is coming off on one of his best years, is the gangster anthem that gives the album some more flair. The odd bundle of featured artists only proves the album's confused direction. It seems as though Ross and his producers didn't know which way they wanted to take the album, and so it just pulls in every way. Featuring respected singers including Mary J. Blige and John Legend it seems odd on an album that also features Future. Again, different directions with no destination.
The album, although slightly confusing and somewhat a mimicry of earlier works, has the ability to create power and emotion through the beats of each track. Most people will find at least one thing to enjoy on the album, but it's too bad there's no continuity or real substance to it. Depending on your mood, different songs will satisfy your needs.