"Positions" showcases Grande's growing confidence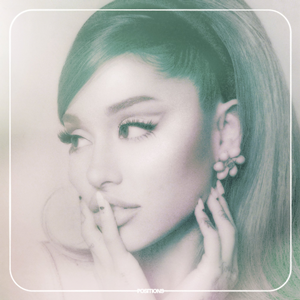 It took some thought and consideration, but after a week of deliberation, I've solidified my approval of Ariana Grande's newest album "Positions."
Released Oct. 30, "Positions" had high expectations to surpass, after Grande's success in her 2018 album "Sweetener" and 2019 album "thank u, next." Grande's traumatic past is no mystery to the public. After a 2017 bombing at her concert in Manchester, England, the death of her ex-boyfriend Mac Miller in 2018 and her breakup with former fiancé Pete Davidson, Grande is no stranger to horror and heartbreak. Her previous albums maintain a proper balance of uplifting positivity and an understanding of loss. Some of Grande's previous hit songs, such as "breathin'," "thank u, next" and "7 rings," topped charts as anthems for accepting the past and letting go.
Grande's fans are constantly on the lookout for new material from their favorite pop queen. Her fanbase continues to steadily increase, even seven years after her first album, "Yours Truly," was released. It was no surprise when the diehard Grande fans streamed her newest album almost immediately after its release. At first, I was skeptical of "Positions." I kept waiting for one of Grande's signature melancholy melodies to arrive, but one never did. Song after song I was met with overwhelming confidence from Grande's music. My enjoyment of songs such as "love language," "just like magic" and "shut up" was undeniable. In the end, I succumbed to the spellbinding effects of "Positions."
A strong album is built from personal experience. Grande continues to sing on her own terms, releasing music that not only tells her story, but the story of her fans. I was fashionably late to join the Ariana Grande bandwagon. Until the release of "Sweetener," I saw her as just another pop star with overplayed songs on the radio. But within the past two years, I've found her music to be a relatable and comforting escape for the teenage mind. "Positions" is no exception, and so far, I believe this could be Grande's best album yet.
"Positions" is pure power. Every song provides a calming, rhythmic beat with lyrics promoting strength and self-assuredness. At this point in her career, Grande knows who she is and what she can do. Her fan base is strong, allowing her creative talents and artistic maturity to shine without restraint. "Positions" is quite easily her most adult album, in regard to both content and musical execution.
Eventually, every artist reaches a stopping point in their career. Losing fame is inevitable. But for Grande, "Positions" has me convinced her career is still on the rise. After taking the time to adjust to a more confident and unstoppable Grande, all I can do is sit back, listen and applaud at how far she has come.