Pandemic concerns impact Renaissance Fair attendance
The Wickham Park Renaissance Fair has been bringing knights, goblins, fairies and other 15th century experiences to Melbourne for years. And despite COVID-19, the fair, which opened Jan. 16, will remain at the park through Sunday. Organizers have taken extra precautions to keep people safe by enforcing social distancing, mask wearing and temperature taking. Still, crowds are thin compared to previous years.
"I don't think it's safe," AP World and humanities teacher Kirk Murphy said. "I really don't. You temperature check all you want. You can say you're social distancing, but no they're not."
Before the pandemic, Murphy encouraged students to visit the fair and even offered extra credit for attendance.
"It's a fun thing, it's a community thing, and you get people out," Murphy said. "While a lot of it is not necessarily historically accurate, there are definitely a lot of elements and things that you could pick up: the way that they dress was a very cultural thing, though we could avoid the drinking and stuff, a lot of the events that were going on were very historical, so I did encourage people to go out."
Junior Madison Mills said she misses previous years and is worried for people who rely on the Renaissance Fair for their income. As a result, she decided to go to support struggling businesses.
"I think small businesses were greatly affected since they didn't get as much money, or as many comments from their target audience as they would've liked," Mills said.
Lina Spagnola, owner of Kitty Moon Artistries, can verify that Mills is right. Times for her and all of the performers, vendors and other staff have been much worse recently.
"It's affected our sales. We are also at the flea market, so before it was fine, but now there are smaller crowds," Spagnola said. "We were making more money and it was good, but now it's a little harder. It's all because there are not enough people coming through."
Visitors are not the only ones concerned about COVID-19. Spagnola has high risk co-workers and is apprehensive about being at the Renaissance Fair. She does whatever she can to keep shoppers and herself safe by making sure she has hand sanitizer placed throughout her booth, alcohol sprays and by being as strict as possible in requiring disinfectant use.
"It's my first year being a vendor," she said. "I'm usually in the food court. It's been kind of rough and it's all been changing. For our booth, we do not let anyone in without a mask."
Spagnola is able to make sure people who enter her booth are being safe, but some of the other staff were a bit too relaxed on the rules for junior Madison Hannah's liking.
"People may think that because the event is outside, masks are optional," Hannah said. "Most people there, especially the employees, were wearing masks but everyone else should, too."
Even though this year's fair is not for everyone, frequent visitors can recall events from previous years and look forward to being able to go back in the future.
"I read 'Lord of the Rings' at a really young age, like 12 or 13 years old and I loved Treebeard and the Ents," Murphy said. "They have a guy who dresses up like a tree. The tree man. I love seeing the tree man. I always get my picture with him. I always give him a couple of bucks and say 'you're the reason I'm here.'"
While some look forward to next year, others make sure they do what they can to be cautious now in order to support local business and mimic normalcy despite stressing over the possibility of risking their health.
"I actually went to the fair with my friend Sam and we stayed safe as we kept our masks on and usually if you go to Renaissance Fair, you touch all the stuff," Mills said. "We try to stay in our little bubble and just have fun with one another."
About the Contributor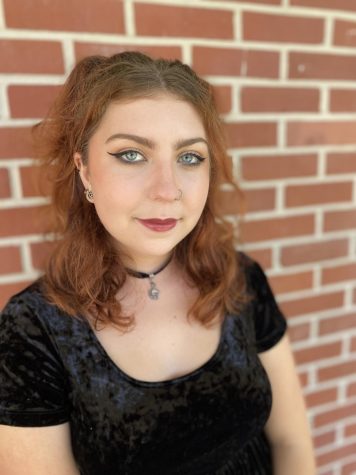 Violet Chace, Entertainment Editor
This year I am a senior and I love sharing my opinions on the newest TV shows and movies that come out.