Eponymous 'SHAKIRA' a fine disappointment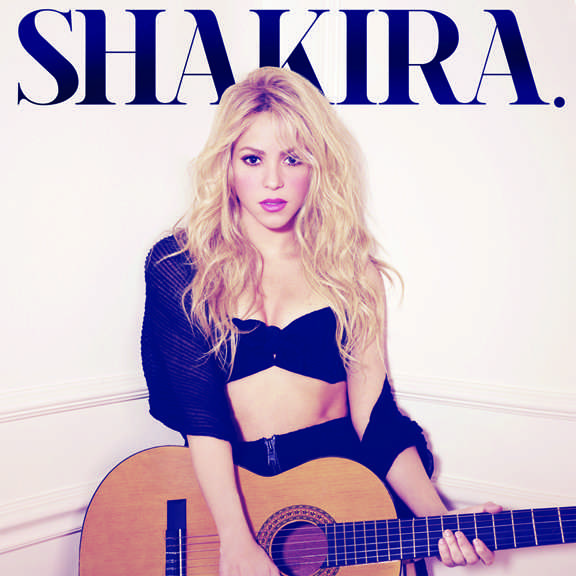 There are certain celebrities and singers whom you forget exist for long periods of time until they are brought back into the spotlight by some obtuse means. It happened to Justin Timberlake. It happened to Robert Downey Jr. And it happened to Shakira. The Colombian singer was brought back to my attention as a coach on seasons 4 and 6 of "The Voice." Excited to see more from the artist who gave the gift that is "Hips Don't Lie," I gave her 10th album SHAKIRA a listen, and honestly, hearing its standard-pop sound, I'm disappointed. And that's not a lie.
Released Jan. 13, the lead single "Can't Remember to Forget You," featuring Rihanna, is one of the better songs on the album. My favorite feature of the song is its sound; the verses are very reggae with horns and ska guitars, while the chorus has more of a rock element. While this sounds good, it's not exactly the most original thing I've heard. Its production reminds me (and other critics) of Bruno Mars' "Locked Out of Heaven," but it remains new enough to keep my attention. I also like the lyrics, some of the best on SHAKIRA. She and Rihanna sing of a rather unhealthy relationship with a man; he makes them feel "stupid," but now they're dependent on him because "he [is] a part" of them. They would "do anything" for him, "give my last dime" or "rob and kill" just to be with him. Every time these two want to leave him, they can only think of "us kissing in the moonlight." The imagery in this song is great and very specific; Shakira leaves "a note on her bedpost" every night, reminding herself to be strong and not repeat "yesterday's mistakes." She has "selective memory" when it comes to him, "see[ing] only the good." The lyrics of "Can't Remember to Forget You" are compelling. Not that there aren't problems with the song. Rihanna and Shakira often sound the same; they have the same vocal range, and the only difference between the two is that Shakira is a better singer. That's probably why I like the Spanish version ("Nunca Me Acuerdo de Olvidarte") better. There's no Rihanna. Also, the chorus can be a bit underwhelming. Shakira can be louder, better than this. She has sounded better than this. I just wish the chorus was a bit more striking. But, overall, "Can't Remember to Forget You" is exciting and has an interesting sound. But let's avoid talking about the music video.
The promotional single "Empire" was released Feb. 11, and at its core, I think it's one of the dumbest songs on the album. The lyrics are horrible; the song's filled with really stupid metaphors. Shakira sings to her significant other, singing that she wants to "be your hero" by taking his "sin." OK, not bad. But then she goes on; she compares her love wildfires, declares that they're alive like "the empires of the world unit[ing]" and says that their love causes stars to "make love to the universe." What. Not only do these metaphors have little to no connection to one another, they don't make any sense on any sort of level. What does uniting empires have to do with feeling alive? Are you comparing your love to world peace, Shakira? Now, Shakira does sing well, and "Empire" makes it apparent for the most part; the chorus sounds fine, and I especially like the background vocals. But, then again, that really doesn't matter when you're so distracted by the terrible, overreaching lyrics.
"You Don't Care About Me" has some of the strongest writing on the album. Put to a dark, reggae beat, the lyrics describe a selfish man who doesn't care about Shakira at all. Again, descriptions of the relationship are very specific; Shakira "fold[s] your T-shirt" and "strip[s] your bed." She pours wine for him when "you say you're thirsty." But "there's no appreciation." I really feel the frustration when Shakira pointedly sings how "you don't care about me" or how "you don't care if I die." I feel the regret when she sings how she "never should have helped you become so powerful." In addition, I really love the song's dark tone, its simple structure, and the horns in the bridge. There's a line where Shakira complains that there's no "consummation," and it's really dumb, but I really do like this song.
"Dare (La La La)" is kind of exciting, if a bit unoriginal. We've all heard this standard dance beat (remember the late 2000's), but there is a bit of twist with – of course – some Latin flair. There's lack of creativity; most of the song is just Shakira saying "la la la" to the beat. The final chorus is satisfying though, as Shakira and the background vocals singing in sync with the loud beat. "Dare (La La La)" is a standard dance song, but I'd still dance to it.
"Cut Me Deep," featuring Canadian reggae-pop band MAGIC!, is my favorite song on the album. This song is another accusation of mistreatment at the hands of a former significant other. Shakira and MAGIC!'s lead singer Nasri describe someone whose words "steel"-like words "cut me deep." Shakira feels betrayed after "climbing up the mountains so high" with him, only to be sent "plummeting" down by his "savage words." The two harmonize with each other well, and both have nice falsettos on the chorus. The rhythmic bass used on the final chorus sounds great, and the rest of Nasri's production here – the sexy horns and background vocals in the bridge – is good too (Amazing, considering that he was a writer and producer on Pitbull's awful – Pitbull is always awful – song "Feel This Moment," featuring Christina Aguilera.) I really like this song. Unfortunately, it has little to do with Shakira. The reggae-rock sound MAGIC! brings to "Cut Me Deep" is impressive; I just wish Shakira had more to do with why I like this song.
From here on out, my thoughts are going to range from "Oh my gosh, this stinks" to "Wow, I'm bored."
I wish I liked "23," but I think it's pretty "meh." It's the most personal song on the album, the title referencing how her boyfriend, Spanish soccer player Gerard Piqué was 23 years old when they met 4 years ago when she was 33. The lyrics range from sweet to bad; I smile somewhat when I hear more creative lines ("Everybody needs an anchor, a little something that makes you stay"), but I cringe at all the clichés (You're the "one piece I was missing" and "Do you believe in destiny?") and several bad lines. For example, she thought that "there was no God," but after Shakira met Piqué, her "agnosticism turned into dust." Umm, excuse me, Shakira. That's called "athiesm," not "agnosticism." I guess it didn't fit with the song's meter. Also, I would be fine if the song used the acoustic-guitar sound throughout the song. But after the first chorus, awful percussion is added and strings and it's all pretty standardly bad. "23" tried to be personal, but bad lyrics and cheesy, overused production make the song bad.
Shakira sings "The One Thing" to her son Milan, whom she had with Piqué. The writing is similar to that of "23": really cheesy, but sometimes good. Shakira was smart. The verses parallel one another; where the first describes how miserable she felt waking up each morning before Milan's birth, the second describes how her son waking up now makes her happy. Other lyrics are bad; Shakira says she was "stoked" before (which has negative connotations here? I'm confused), and that Milan turns "the darkness into light." Again, this song is too cheesy. "The One Thing" does have a fun chorus, but its mid-tempo pop-rock sound seems derivative, while its lyrics bother me.
"Medicine," featuring country singer and fellow "Voice" coach Blake Shelton, is the worst song on the album. I haven't heard anything that feels so shockingly corporate since Maroon 5's "Moves Like Jagger," featuring Christina Aguilera (which is just a terrible song by the way). Christina Aguilera and Maroon 5's Adam Levine also were coaches on "The Voice." What a coincidence! Shakira and Shelton have even less chemistry than Aguilera and Levine. Both need each other to make the pain go away, just like "medicine." With each other, they don't need "whiskey" or "pills." First problem: these two are constantly stuttering and repeating words that don't need repeating. Shelton sounds silly constantly saying he's not "po-po-popping the pills." Shakira sounds mindless asking for him to be "m-m-m-my medicine, medicine." These two are annoying. Almost as annoying as the pop-country sound with acoustic guitars and banjos. "Medicine" is an awful song.
"Spotlight" sounds the similar to a bad Alanis Morissette song or perhaps a less epic P!nk song. Describing her love life under the stress of fame with "cameras flashing my way," "Spotlight" utilizes obnoxious production and poor lyrics. The song is so annoyingly happy-sounding with "guitars" and a computer-generated beat. Shakira sings how her significant other was "the thing I was missing" (Didn't we already hear this line in "23"?) and describes how their love is "just so real" and how she can't change "the way I feel." She actually rhymes real with feel. How lazy. "Spotlight" is so dumb I cannot even properly describe how dumb it is.
"Broken Record" is another song that I think sounds like it's from another artist. This time it's Taylor Swift (before her Red album of course). One critic from DirectLyrics.com pointed out that the guitar sounds exactly like that in the Plain White T's "Hey There Delilah." This shows just how derivative and unoriginal something like "Broken Record" is. Shakira sings how her significant other has doubts about their relationship, while she tries to convince him of her love for him. The lyrics sound silly. In the second verse, she reveals that "your hands" are "my best friends" and that she gets "lost climbing […] your legs that never end." Did you hear that? Shakira gets lost in her boyfriend's legs. I am all for adding some creativity to this uncreative album, but there is a limit. Another lyrical problem: one of the main parts of the chorus is that she feels like a "broken record" because she has told him "700 times" that "you are the one." What an arbitrary number 700 is. Why not 800? 900? What about 1000? I know why. Seven hundred is the only multisyllabic number to fit her unimaginative rhyme and meter pattern. "Broken Record" is almost completely derivative, in its sound and its theme, and the only signs of creativity actually are detrimental.
I respect Shakira for making such a personal album, but honestly, being personal doesn't equal good writing. This album is riddled with lame metaphors and terrible lyrics that seriously don't compare to Shakira's past works. Anothing thing, many herald SHAKIRA as a return-to-roots, the Colombian artist's restoration to her pop-rock roots. Again, I respect Shakira for this artistic move, but frankly, there's a reason why I like the more reggae songs here; in a world of poppy, rocky female artists – P!nk, Kelly Clarkson, Avril Lavigne are just a few – and male indie pop bands, Shakira's Latin vibes would have been a breath of fresh air. Oh well. SHAKIRA is a good album, with several good, exciting songs. It's just that much of it is a complete bore.