Band students impress at Solo and Ensemble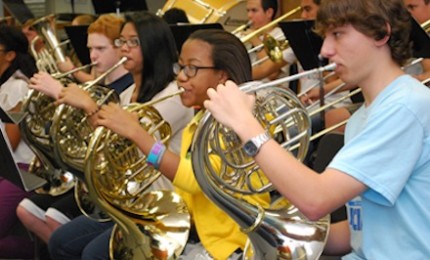 Select Wind Ensemble and Advanced Band students excelled at the annual district Solo and Ensemble event recently, earning 19 superior ratings.
Band Director Carol Allen said this year's musicians earned more superiors than previous years. Allen said she hopes to send the 17 band members who qualified by receiving a superior rating on a piece rated 5 (college-level music) or above to the state Solo and Ensemble event.
"I knew they were practicing hard and preparing a lot for this," Allen said of the Solo and Ensemble participants. "I am happy for them, but not surprised at all."
The state event, which takes place on April 1 and 2, includes students from throughout Florida who met the requirements to reach this lofty level. There, they will be strictly judged on components of their playing such as tone, rhythm and even stage presence.
At the district level, the musicians are judged on the same criteria, but not as stringently as the state level. Junior clarinetist Natalie Brown, who earned a superior on her solo and woodwind quintet, said she was not expecting to receive a superior on her solo.
"I walked in thinking, 'I'm going to embarrass myself today,' " she said. "But I played well, and it turned out great."
After playing the music for the judges, at least 30 minutes passes before the score is posted. After waiting anxiously for her rating, Brown said she was shocked.
"When someone told me I got a superior, I was like 'No I didn't!'" Brown said. "I was screaming so loud. I was off the walls."
Although performing can be difficult, Allen stressed  the value gained from participating in Solo and Ensemble.
"I think it is a fabulous experience," Allen said. "[The students] get to present something in front of someone who knows about music and [the students'] instruments. They get great feedback from the judges, and preparing the piece before the event is good practice. Most students who do this want to do it again. It's nerve-wracking, but fun in a way."
While Brown said she enjoyed her  experience at Solo and Ensemble, her favorite part was  hearing her friends play.
"Being proud of how I did was also important, but I knew [my friends] worked hard and I loved seeing them shine," she said.
Brown said even though she was stressed throughout most of her preparation for Solo and Ensemble, she doesn't regret participating.
"This is my third time doing this," Brown said. "But I'll keep coming back for more, even if it is stressful."
By Katie Garwood