Artists' work on display at Dali museum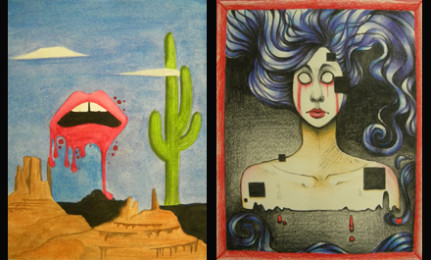 Winning a statewide competition, six students gained acceptance into a surrealist art show, "Strangely Familiar," at the Salvador Dali Museum in St. Petersburg. The museum holds the largest collection of art by Salvador Dali, who is one of the most famous surrealists of the 20th century and best known for his painting titled "The Persistence of Memory." The artworks of seniors Erica Denni, Jack Dickens, Samantha Grant and Valerie Kobzarenko, along with those of freshman Katherine Pierce and recent graduate Riegel Spogen will be on display in the Dali museum June 7 through Aug. 18, with a reception and awards ceremony on June 29.
"Gaining a spot in the art show was such a pleasant surprise," Denni said. "I wasn't expecting to do well in the competition because I thought there were some things about my piece I needed to fix. I actually only worked on it for one day. I ran out of time and just turned it in anyways."
The winning 100 pieces to be displayed in the Dali exhibit were narrowed down from 400 submissions from high schools throughout Florida. Denni and Dickens submitted works created in Jim Finch's Computer Graphics II classes, while the other four winners came from Mark Henderson's Painting and Drawing classes.
"I let just a select group of eight or ten students do a piece for the competition in addition to what we were already doing," Finch said. "The theme involved creating pieces using a realistic approach that were also somewhat trippy and dreamy looking. I like to give my students as many opportunities as possible, and this competition was a nice way to do that."
According to Finch, the school had more works accepted into the museum than any other high schools in Brevard County combined.
"We probably had the most students win from any one school statewide too," Finch said.