Artists, musicians raise funds for Quill & Scroll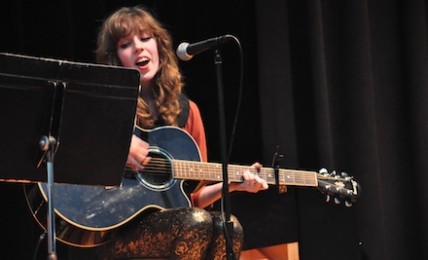 Graphic designers, painters, photographers and musicians joined forces Friday night at the second annual Sound and Vision Night held in the school auditorium. The alternative-vibe event is a fund-raiser for West Shore's chapter for Quill & Scroll, an international journalism honor society. This year's installment was organized by Quill & Scroll President Tryphina Mikhail.
"We started planning months in advance and we had to spread the word about it," junior Lauren Youngson said. "Tryphina worked really hard to make sure everything came together in the end. She gave all of us [members] individual things to do so that it would be successful. "
Attendees browsed photography, paintings and sculptures lining the auditorium walls while sophomore Caleb Bryant played piano standards in the background to open the evening's art-centric mood. At 7:15 p.m., Bryant gave way to the folk music stylings of Snails are Great a three-piece combo featuring Gift Sawangkum on ukulele, Greta Schledorn on guitar and Daniel Tenbusch on keyboards.
"Our music is cute indie songs," said Schledorn, who group played an eclectic set featuring songs by Ingrid Michaelson, the Flaming Lips and Taylor Swift.
Ananda-conda and the Field Mice, featuring juniors Ananda Sundararaman on drums, Adam Marzec on guitar and senior Nathaniel Curtis on bass followed with a rock-funk set, featuring several Red Hot Chili Peppers covers including the 1992  classic "Under the Bridge."
"Basically we learned our songs individually and just practiced in the band room a few days before," Curtis said. "We just wanted to play what we liked — which ended up being all Red Hot Chili Peppers songs. Even though we didn't practice a lot, we still had fun."
West Shore alumnus Matt Verdier then played a solo acoustic versions of self-penned songs from his band Stork.
Daniel and the Fire Alarms closed out musical portion of the evening with several jazz numbers, including a Tenbusch original called "Sound and Vision" written in honor of the event. Daniel and the Fire Alarms includes Tenbusch on keyboards, junior Paige Neihart on drums, Curtis on bass, seniors Alex St-Pierre Pesant on violin and Dakota Helbig on trumphet and junior Jennifer Stone on saxophone.
The evening ended as members of the audience were invited use their cellphones to vote by texting for their favorite photograph, graphic design/art piece, video and musical group.
Junior Jack Dickens took home a first place award for Best Video and Art, Alannah Stewart placed first for photography and Snails are Great received the nod for best musical performance. Each winner received a gift card to Starbucks. In keeping with the alternative theme, a concessions table sold flavored coffee, scones and muffins. The event raised just over $100 for the organization.
Roar staff report