Wildcats slay Green Dragons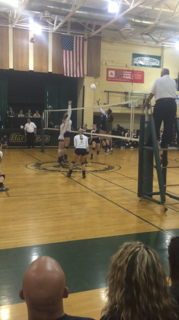 The volleyball team beat Lake Placid high school in four sets in the Class 4A, District 7A regional quarterfinals. Sophomore Giao Huynh led the team with 19 kills and Louisa De La Hoz had 38 assists. The Lady Wildcats will now move on to the regional semifinals where they travel to Holy Trinity to take on the District 7 champion Tigers on Saturday at 2 p.m. The will be the fourth time this season the 'Cats will take on Holy Trinity, who beat them in the conference championship match. The Wildcats had prevailed twice previously.
"We are more connected as a family this year and I believe that has made us stronger," junior Luisa De La Hoz said. "We played for fun in the years past, and this year we played more to win."
One of the biggest parts of volleyball is being connected as a team on and off the court. Without that it can cause teams to crumble on the court.
The team has two more wins than last year and two fewer losses and senior Megan Green thinks she know why.
"We run a faster offense this year and have spread out our hitters," she said. "These changes have improved our team overall."
By Allie Henderson