Volleyballers knock off Edgewood in four sets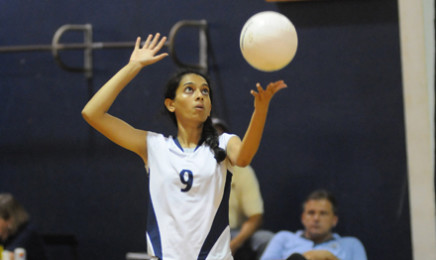 With eight kills each, sophomore Casey Schauman, senior Amanda Farthing, senior Tess Sheets and sophomore Taylor Kelley led the Lady Wildcats' volleyball team to a three sets to one victory over archrival Edgewood. The Lady Wildcats took on the Indians for the second annual "Fill the Gym" night Thursday.
"We started out really shaky in the first set, but we stepped it up in the rest of the sets to gain another win," senior Amanda Farthing said. "It was  really exciting having everyone there cheering us on to help lead us to victory."
After losing the first set 25-21, the Lady Wildcats rebounded and won the next three sets 25-18, 25-13 and 25-11.
"So far, we are winningest team in West Shore volleyball history," senior Tess Sheets said. "Everybody has really stepped it up this year to compete and win against as many challenging teams in our district."
"Fill the Gym" night involved each team member trying to bringing as many fans as she could to the game. The team competed for $50 provided through ticket sales.
"Fill the Gym night is just a fun event for everyone," sophomore Casey Schauman said. "Having the bleachers packed really motivated us to do our best and its a great time for all."
Fans entered the name of the volleyball player who told them to support the team and attend the game into a box and whoever's name appeared the most times, won the $50.
"Fill the Gym night was an opportunity for the team to not only be competitive with other teams, but each other as well," junior Hannah Krasny said. "I was trying to get all of the juniors to put my name in the box seeing that I'm the only junior on the team so those six seniors on the team had better watch out because I was coming to win."
The team will find out who won the competition at Friday afternoon's practice.