Krehbiel paces girls in FLrunners Invitational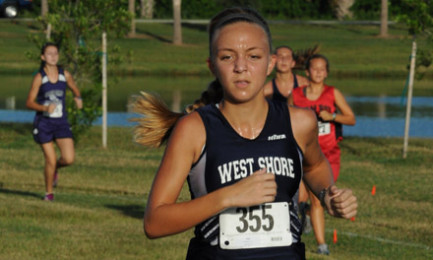 Junior Lexi Krehbiel placed 41st with a time of 22:11 to help the girls' varsity cross country team to a 22nd-place finish in the FLrunners Invitational at Chain of Lakes in Titusville on Saturday. Senior Jacob Smithe placed fourth overall with a time of 17:22 to lead the boys' team to a 15th-place finish.
With approximately 5,000 athletes and more than 50 teams for throughout Florida and beyond, several divisions of races were added in order to allow everyone to have the opportunity to compete. The boys' and girls' varsity teams competed in the "Unseeded A" division, while the boys' and girls' junior varsity teams were placed in the "JV White" division. Senior Sarah Day qualified to compete individually in the "Race of Champions" division, where she finished sixth with a time of 18:44.
"I ran at 9:15 and hated it," girls' varsity co-captain Lauren Dietl said. "Thankfully, we got lucky that a cloud blocked the sun for the majority of the meet. Despite the tough competition and great participation, it was just another race to me. I just wanted to hit my times and do my best and not worry about all the other athletes around me. Even toward end of the race, when I was getting tired and not feeling the greatest. Somehow I still managed to pass three girls which provided me with the confidence to persevere in the upcoming races."