Cheerleaders fund-raise for Citrus Bowl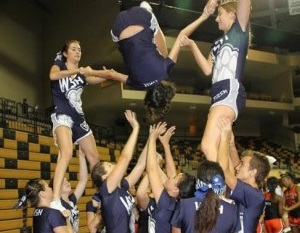 Off to a great and early start over the summer, the West Shore Varsity cheerleading team attended the Universal Cheerleaders Association (UCA) Camp at UCF. They were invited to represent Brevard County at the 2016 Buffalo Wild Wings Citrus Bowl and cheer in a pre-game show. The Citrus Bowl, a collegiate football bowl, will be viewed by thousands of fans and will air on ABC on New Years Day this year.
Cheerleading coach Carrie Wadzinski is proud of this distinction her team received. "It was quite an honor to be one of the top three teams at camp out of about 25 to be asked to go,"  Wadzinski said.
Along with gaining experience performing in front of a much larger crowd, the cheerleaders will learn skills in other areas of cheerleading. They will be trained in proper cheerleading safety technique, stunting progressions, spirit leading activities, and will learn game cheers and pep rally fundamentals.
"I was really motivated to go the the BWW Bowl game because it's an amazing opportunity for the West Shore Cheerleaders," senior co-captain Jordyn Sosa said. "I know that I won't be able to continue cheering in college, so it's the closest to cheering for a college team as I can get."
To offset the costs of this nationally recognized event, the cheerleaders are holding several different fundraisers.
The first of these fundraisers is an after-school bake sale, starting on Friday, September 11th, and continuing every Friday until October 9th. It will be located in the school courtyard and will end at 4 p.m. Items sold will cost $1.
Another fundraiser hosted by the team will be at Buffalo Wild Wings, taking place on Saturday, September 19th at the Palm Bay location on Norfolk Parkway in the Hammock Landings Plaza. The event will be from 11 a.m. until closing. 10 percent of sales will go to the team if a fundraising ticket is presented to the server. The fundraising ticket can be found below and will also be distributed at the event.
"It's so special to me because at one time we were the worst team at camp, but with years of hard work and dedication from the team and others, we have really improved the cheer program." Wadzinski said.