Sound and Vision promises alternative vibe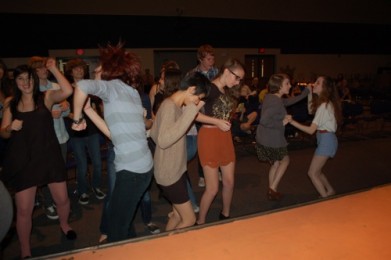 Sick of fundraisers that are too 'mainstream'? Tired of paying an arm and a leg at coffee houses with cover charges and astronomic prices? Then grab some friends and come support Quill & Scroll journalism honor society at the second annual Sound and Vision Night on Friday from 6:30 to 8:30 in the auditorium. Tickets to attend are $3.
"It's different from normal fundraisers," journalism teacher and Quill and Scroll adviser Mark Schledorn said. "It attracts a different kind of crowd, and it's one of the highlights of my year. Most of the artsy kids come out."
There will be snacks for sale, including coffee, soda, scones, muffins, and popcorn. A barista will be present to customize the coffees. The prices will be posted at the event, and all proceeds will benefit Quill and Scroll. Food is not the only reason to come, though. Some of the school's musicians will be performing while art and video projects are displayed.
"I'm excited to play at Sound and Vision this year," junior and pianist Daniel Tenbusch said. "Last year ended up being a success, and it is always fun to hang out with your friends. While I'm not playing, I imagine I'll be frequenting the coffee bar. And the muffins. Everyone likes muffins and coffee."
The art gallery will be on display throughout the event. Any submissions are welcome and must be reviewed by Mr. Schledorn in Room 3-104 by Thursday in order to be shown. This includes videos as well. Prizes will be given to top scoring pieces based on text voting by attendees, so bring your cell phone.