Sophomore learns to dance again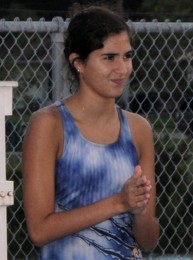 As sophomore Elena Abascal puts her arms into fifth position, her ballet teacher notices a bruise on her shoulder. Concerned, Elena's teacher asks her to take a seat. She watches as her classmates do simply barre work, including plies and tendus, things she can easily execute.
Abascal was born with a curve in her spine, a condition known as scoliosis.
"At the age of 12, I had to start to wear a back brace and quit ballet," Abascal said. "It gave me huge bruises when I danced in it."
Quitting dance was not easy for Abascal. From a young age, dance had a major influence of her life.
"When I was little I had an obsession with Russia, which is kind of silly," Abascal said. "I heard about the Bolshoi ballet and I started to love it."
As Abascal began wearing a brace for her medical condition she was affected emotionally as well as physically.
"It was embarrassing for people to know I wore a back brace," Abascal said. "I stopped sleeping over at my friends' houses and things like that just so they wouldn't know. I know it sounds stupid now, but I was really embarrassed about it."
Abascal, who has been swimming since first grade, decided to swim competitively when she was put into a back brace four years ago. This year she was one of the top back strokers on the school's girls' swim team.
"She scores a lot of points for our team and by the time she's a senior she'll be a star," senior Bernadette Murphy, swim team captain, said.
Murphy said Abascal has a lot of natural talent.
"She's super sweet and enthusiastic," Murphy said. "And I think she would make a great team captain by the time she's a senior."
Besides being a competitive athlete, Abascal excels in school. She recently wrote an essay to submit to the Gulen Institute, an organization based primarily on encouraging academic research and positive social change through education, volunteering and community projects.
"My essay is about child sex trafficking," Abascal said. "I heard about this art exhibit called Journey that was a recreation of the bedroom where this teenage girl had to work when she was kidnapped and sold. The room is horrifying but so impacting. After that, I just knew i had to do my part to bring awareness to child sex trafficking so I chose to write the essay."
After struggling for two years in a back brace without the ability to dance, Abascal's scoliosis has been cured and she's pursuing her passion again.
"All my flexibility has vanished and I forgot a lot of the moves," she said. "But I'm so happy to be back."
Liam Wixted