Senior Project yoga class deemed success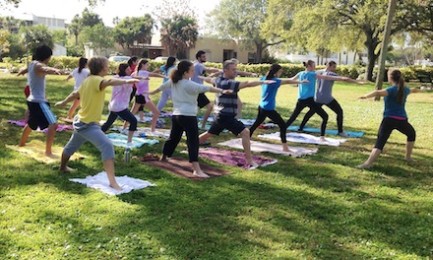 After a great deal of stretching — both physically and metaphorically — senior Ana Guerra taught her Senior Project yoga class Saturday at Front Street Park in Melbourne. Sophomore Sarah Tanke attended the class and said she enjoyed it.
"You could tell she knew what she was teaching us. If we were doing something wrong, she would tell us how we could fix it to make it easier," Tanke said. "She really made me want to take another yoga class. She was awesome."
Guerra's Senior Project was to learn yoga, and then be able to teach a class. She said she plans to continue with yoga even though she has completed the project.
"Yoga has taught me a new lifestyle." Guerra said.
The class was outside and began at 9 a.m. The weather cooperated and the class was held in the shade. Sophomore Brianna Silvestre also attended the class.
"It was nice to know the people in the class. That, combined with the fact that we were outside, made everything really relaxed," Silvestre  said. "Overall it was a great class."
After the class, Guerra said she felt a sense of liberation. She will be graduating in May and going to school to become a nurse.
"I feel relieved," she said. "It's a strange thing to be able to say you're done with your Senior Project."
By Evy Guerra