NHS graduation stoles postponed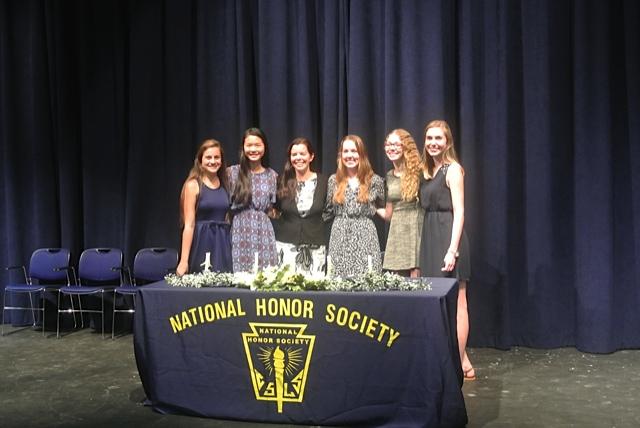 About half of seniors showed up to the NHS Senior Sendoff due to the graduation committee announcing that graduation stoles wouldn't be handed out at the ceremony, as is the custom. The graduation committee wants to ensure that all stoles are accounted for on graduation day, May 27.
"It was unfortunate that we couldn't get our stoles because everyone wished they could have gotten them at the ceremony," secretary Erin Sheridan said. "I wasn't surprised at all that an underwhelming amount of seniors showed up. Once people heard the word, they didn't want to come."
The NHS officers coordinated Senior Sendoff and gave Henderson a gift basket.
"We gave her a Carrabba's gift card, an assortment of coffee, and travel mugs," Sheridan said. "We just thought she deserved to be rewarded with something since she really works hard."
Throughout the year, NHS seniors were supposed to earn a total of 20 points to be eligible to receive their stoles.
"I believe we started out the year with 62 seniors," NHS sponsor Melissa Henderson said. "We ended up with 41 eligible seniors with 22 of them showing up. It's kind of sad to see them work hard over the years and not being able to get recognition from the club. Some people were really close at earning their 20 [points]."
Some seniors earned more than 20 points while others, such as Senior Class President Jonathan Wakim, earned well under 20. However, Wakim is the first to admit that the minimum amount of points was lowered.
"I earned 7 points," Wakim said. "What really happened but no one else will say is that NHS lowered the minimum amount of points needed to 15 since they realized that most seniors were never going to get to 20. I've met the point total the last two years but apparently that was for nothing and I got kicked out."
Wakim said he was unable to reach either goal of minimum points due to the point system.
"Basically the last two years NHS has an April service project where they let people get points at the end of the year, which is what I personally did the last two years, but they didn't have it this year," he said. "Last year, the officers of the group went out of their way to help seniors get the points they needed, whereas this year the officers didn't care and ended up kicking out more than 20 seniors. Don't get me wrong, I do blame myself for not getting my points earlier but I was expecting a better way to get points then by the system they set up."
NHS gave seniors a last chance to earn points in April. It consisted of getting a point for every $3 spent, with the maximum being $6.
"The point system was good because it required people to actually partake in events," Sheridan said. " It used to be super easy to get points so people didn't really have to try."
NHS officers tried to get seniors to be more involved in the program this year, which explains why the point system was established.
"I know it's a lot for seniors to keep up with everything going on senior year," president Mary-Elizabeth Jobson said. "There's so much to worry about. It's unfortunate that so many will not be wearing their stoles to graduation, but we could only be so lenient with our system."
By Juan Rodriguez