NAHS holds pumpkin decorating fund-raiser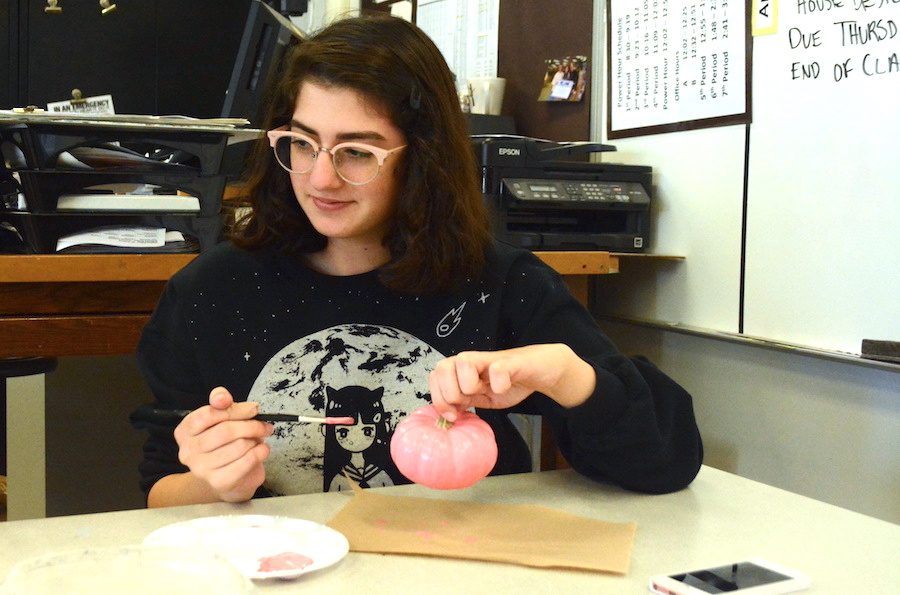 National Art Honor Society got an early start on Halloween by inviting students to decorate pumpkins Tuesday during Power Hour.
New studio arts teacher Jelena MacLeod supervised the club's first fund-raising project of the year, but she didn't take part in choosing how it would be planned out.
"[Club members] came up with this idea," she said. "We voted on the officers of the NAHS and they were the ones that decided to do this as a fund-raiser. They thought it would be a lot of fun, and obviously a lot of other people thought so too."
NAHS member Madison Hannah said she was pleased overall with the results.
"This is our first event that we've put on and I'm glad that it turned out successful," she said.
Jadyn Milo said she would tweak a few things if the club decides to hold the event again next year.
"For me, this was kind of like a busy day to have it all set up and done, but I did figure out how to organize it," she said. "If anything, I would've made it on less of a short notice or so early in October because last week was the first NAHS meeting and then all of a sudden there's this pumpkin decorating. Besides that, everything else has been good."
MacLeod lauded the decisions and ideas the students made and had plenty of praise for the club's leadership.
"I thought it was fantastic," she said. "This is the date that they chose, so we let them make their own decisions within reasons. These are high school students. They're very responsible. They run it by us, but usually if this is a date that is convenient for them, it works."
By Ana Bustamante