Latin students shine at Forum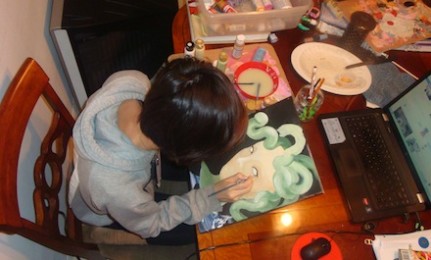 Sophomore Joe Along, freshman Sergio Carlos and junior Gift Sawangkum along with 62 other students took home 72 awards at the Regional Latin Forum on Feb. 2 at Holy Trinity High School. Of these 72 awards, there were seven first place, 18 second place, 17 third place, 14 fourth place and 17 fifth place.
"It was fairly easy to win because there was so much opportunity," Latin teacher Virginia Wills said. "There were five rankings for each test and a huge variety of tests, with each test having a beginner, intermediate and advanced test. To add on the awards even more, there was opportunity in the projects in two categories: Most creativity and/or academic."
Still, competition was formidable.
"Despite the fact that we were outnumbered by the other 263 students from four other schools, we had a lot of success in the projects and did respectively on the tests," Along said.
Carlos, who placed second in the costumes category as Acteon from Greek mythology, said he was robbed.
"The other costumes were not that good," he said. "I must admit though, the winner of the category did have better make-up.
Sawangkum also placed well with a second in the paintings category with her depiction of Medusa.
"Although I spent only 45 minutes to one hour on my painting, I still wanted to make an impression on the students and judges with something I knew they would know, and I felt I succeeded in doing that." she said.
A large incentive for the 65 students to participate and perform in the events well was the opportunity for extra credit. The students, who showed up, took the test, and presented a project, got 25 points and an additional 25 points for each award they won.
Overachieving students included Carlos and sophomore Caleb Bryant, who received 100 points for their efforts.
The Latin Forum sparked interest in classical culture and language and helped to start off preparations for the annual National Latin Exam which has been scheduled for the week of March 11.
By Steven Tenbusch