Girls' lacrosse suffers first loss to Mustangs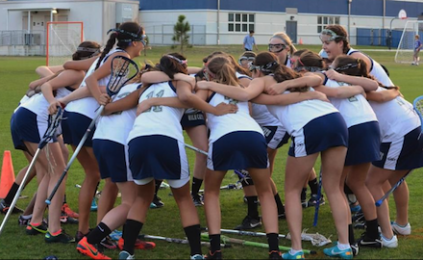 A late goal by junior Christine Sherry was called back due to her playing with an illegal stick.  The goal would have tied the game and potentially forced a shootout.  The Lady Wildcats fell to the Merritt Island Mustangs 12-11 in double overtime Thursday night.
"We needed to be more aggressive," Sherry said.  "Obviously the refereeing wasn't great, but we have to play our hardest and not give up."
FHSAA rules state that a standard lacrosse ball must at all times be able to be visible over the lip of a lacrosse stick.  The rules also state that each player's stick must be checked for pocket depth before the first draw of each game.
"It's stupid because they only checked my stick because [Merritt Island head coach] asked to have it checked," Sherry said.  "To be consistent, they should checked their players' too."
West Shore led for the majority of the first half, but controversial referee calls and lackluster defense allowed the Mustangs to charge back and tie the game forcing overtime.
"It's frustrating because I'm angry we lost, but I'm not sure what to be angry about," junior Sierra Purden said.  "We all played a really good game, it just wasn't our night."
The Lady Wildcats continue district play Friday night when they host the Viera Hawks beginning at 6 p.m.
"We need to go into our next game with clear minds," Purden said.  "We want to beat Viera and this is our year."