Freshman earns District Champion title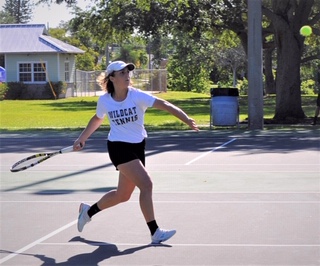 The girls' varsity tennis team recently participated in the district competitions from April 15-16 at the Fee Avenue courts. Due to their 5-0 triumph at the district tiebreaker match against Edgewood High School on April 18, the team will be moving on to the regional competition Tuesday.
Freshman Tehya Bahsoun was one of the players whose win against Edgewood was a deciding victory for her team.
"One thing that happened that I will never forget would probably be just the win itself," Tehya said. "It doesn't sound like much, but the feeling of winning against every team and allowing my team to advance to regionals is great."
Her sister, Sarah Bahsoun (11), will join Tehya on the district team.
"Seeing Tehya compete is kind of normal," Sarah said. "She's a fantastic tennis player, and watching her play at such a high level is pretty much the norm for a player of her caliber."
For Tehya, this is the third time she has attended the district competition; she received district champion in seventh grade and runner-up in eighth grade.
"This is different than the previous years because my match had much more pressure, due to the fact that whether we advanced or not depended on my win," Tehya said.
She has been playing tennis for 11 years, and has been on the varsity tennis team since seventh grade.
"I think that myself being the older sibling has nothing to do with the way I feel about her coming so far, " Sarah said. "She is my sister, and by extension one of my best friends- and that alone, seeing my best friend come so far, makes me extremely proud.
By Riley Harper