FCA begins its Children's Home Society toy drive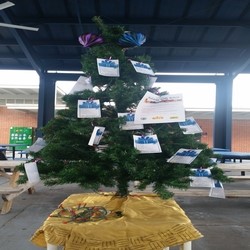 As the Christmas season approaches, the Fellowship of Christian Athletes members have started a toy drive for the Children's Home Society. Students can help out with the toy drive by donating online, taking gift requests from the tree in the pavilion or bringing a gift to the front office with a tag attached.
"The toy drive in recent years has been very successful and this year with FCA involved, the goal is to spread the love of Jesus to all the people at West Shore and the children who receive the gifts," FCA Co-President Kyle Caudill said. "I love doing the toy drive every year and it's a great way to get the whole school ready for Christmas."
FCA member Alysa Taylor said she's happy to be involved with the project.
"I think the toy drive is a really great idea and a good gesture to get people into the holiday spirit,as well as showing what the spirit of giving is all about," she said. "Hopefully, I can participate in activities similar to the toy drive and help out my community."
By Leighton Johnson