Eau Gallie tops boys' lacrosse 7-2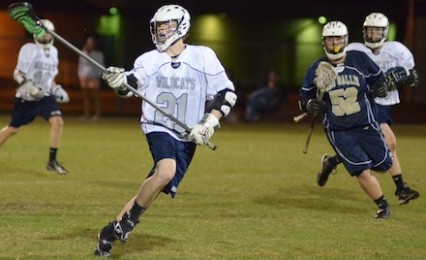 Freshman Austin Altevogt and eighth-grader Tom Sherry each scored a goal as the boys' lacrosse team fell to the Eau Gallie Commodores 7-2 Thursday night.
"We had poor defense," junior Ryan Bellone said. "Our defense needs to learn to move their feet and stay with their man."
Bellone also said that offense has to work on having more concise passes and catches.
Much of the team was discouraged after seeing its chances at winning fade away when the Commodores came out and scored their final two goals in the end of the fourth quarter.
"We need to focus more on defending during practices rather than attack because with a strong defense you can't lose," junior goalie Jack Moore said.
Sophomore Chris Melchori cited lapses in offense.
"I feel like we really gave it our all but as a young team it just wasn't enough," he said. "Our offense definitely missed a lot of opportunities where we should've scored.
Freshman Lev Freeman said the team has its work cut out for it.
"We didn't play as a team," he said. "Some players individually did great, and others were disconnected. Hopefully next time we can change that by talking on the field more."
Altevogt said that even though it was a hard loss, the season has just begun  and the team needs to focus on Monday night's home game against Sebastian.
Mikayla Almeida contributed to this report.