District revises recipes for healthier lunches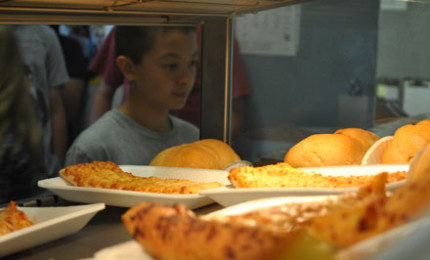 More than 500 school breakfast and lunch recipes soon will receive a makeover as a result of new guidelines implemented by the new "Healthy, Hunger Free Kids Act."
The act, which was passed in January 2012 as part of First Lady Michelle Obama's "Let's Move" campaign, requires the United States Department of Agriculture to issue regulations to update the meal pattern and nutrition standards for school meals based on recommendations from the Institute of Medicine.
"We have to be in compliance of these new guidelines from the government to be able to participate on the National School Breakfast and National School Lunch Programs to be able to serve students meals," Brevard Public Schools Dietitian Specialist Lori Nelson said.
Currently, the Nutrition Based Menu Plan counts calories, fat, and other key vitamins. Each school has the option of choosing one of three meal plans that meet government guidelines. Under the new act, the entire country is going to one plan. The recipes are changing to meet different nutrition requirements of the new meal pattern which looks at meeting minimum and maximum portion sizes of each food group.
"For many of our recipes, we may be able to keep the foods we have but restructure what is in a recipe," Nelson said. "We are still going to offer things like rolls and mashed potato but it may be a side, not part of the entree. Each recipe has to be looked at, items have to be weighed and all guidelines have to be looked at."
The new meal pattern increases the portions of fruits, vegetables, and whole grains and reduces the portions of meats and breads. Over time, school meals will contain more whole grains and lower sodium, which has an impact on healthier hearts and lower blood pressure.
"The [new plan] requires students at lunch to take a fruit or a vegetable," Nelson said. "[Before] students had the choice, now it's mandatory."
Brevard Public Schools Director of Food and Nutrition Services Kevin Thornton and District Food and Nutrition Manager Dawn Menz say the changes reflect the most recent dietary guidelines and will result in healthier meals for students across the nation.
Districts will receive an additional six-cent reimbursement per lunch, but the estimated cost to implement the changes will be approximately 38 cents per lunch. There is no additional revenue for breakfast which will have an estimated 25-cent cost increase.
"As many of the food items that we offer already that are healthy, this new meal pattern is challenging because it's a completely different way of looking at what we have to offer," Nelson said. "We have a short time to make the changes for next year to implement lunch."
There may also be changes to the a la carte program which could reduce or eliminate the items being served. The revenue of the program helps offset low meal costs. The reduction of a la carte items could impact the cost of a school meal.
"We are trying not to raise lunch prices due to the new regulations," Thornton said.
There may be additional changes after the program is first implemented, but it will depend on the federal government, not Brevard County. There are different levels at which the new guidelines are being implemented; therefore it will take time to see all of the effects of the changes.
"Hopefully with the changes, students will understand we already did offer many healthy items, but now there will be even healthier options," Nelson said. "Those that do not currently participate or participate regularly may now take part in school meals."
At each school, staff and students need to be retrained in what is allowed to be taken with a meal. Certain foods will no longer be offered based on the new guidelines. Students will be required to select three food items from the following five food components: meat/meat alternative, grain/bread, fruit, vegetable and milk.
"We strive to offer healthy meals that the students will eat and enjoy," Thornton said. "The challenge is to maintain participation in our breakfast and lunch programs due to offering the healthy food items. To avoid losing participation, we will test new food items with students to ensure that the products are acceptable to our customers."
The Healthy, Hunger-Free Kids Act allows the USDA to make reforms to the school lunch and breakfast programs for the first time in more than 30 years by improving the critical nutrition and hunger safety net for millions of children.
"The best part is these changes need to be made so that the whole country will be on the same guidelines," Nelson said. "This might give school districts a chance to not be criticized so much about school lunch, when [many districts] like Brevard were already doing good things. This helps spotlight our good nutrition. There are always things we can improve on, but it's nice to let others really see the good we are doing."
By Taylor Eenhuis