Crew team ends season, begins recruiting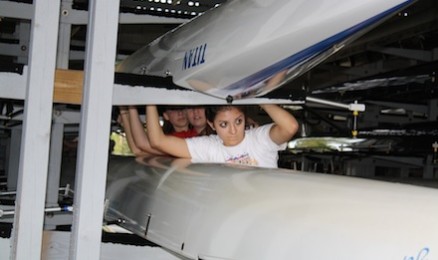 Space Coast Crew arrived back from State Championships in Sarasota this week after a long weekend of racing. The team is undergoing a huge rebuilding phase after losing almost 20 rowers the previous year due to graduation, a fact made evident by the outcome of the State Championships.
"The loss has been evident all season, but not as much as it was in these races this weekend," said Heather Rogers, head coach of the team. "Despite the losses and struggle, I feel really good knowing that I have a group of rowers that are able to take it in stride, they know just as much as I do that these rebuilding years are just as important as the winning ones."
The championships were run differently than in previous years. The events such as Junior Varsity and Novice were done away with and in place of them the new event called Junior was created. In this event the only requirement was that the rower must be under 18 years of age. The change opened up the opportunity for teams to place their best rowers in these boats making it increasingly difficult to win, as Space Coast discovered.
"No one medaled this year," said Chloe Sink-Zabinski, captain of the men's team, "I mean, the whole team knew it was coming to be completely honest, this whole season was about rebuilding and recruiting, but it was still just as fun as it was when we were winning."
For some who have participated in their final race as a Space Coast rower, the end proved bittersweet, and for others knowing they will return, its relief knowing that they have an entire summer away from the time- consuming sport.
"It's heartbreaking. It really is," said Eau Gallie High senior Katie Cronk, captain of the women's team. "After four years this team has become my family, and I've seen so many things and known so many incredible people it's hard to walk away."
While the seniors are reminiscing about their years with the team, the team is planning for the future.
"This season would have gone so much better if we had managed to recruit more rowers, especially for the women's team," said Eran del Castillo, third year rower for SCC. "I really hope we can do better this year."
The men's team was a little more successful with its recruitment, however, it is still in need of new recruits every year to keep up with rowers graduating.
"I'm proud of our recruitment from this past year,"  Sink-Zabinski said. " I'm pretty sure we can do it again so on top of our recruitments from last year and what we can accomplish with recruitment this year, we should have a great start to a new team."
Newly elected women's team captain Olivia Humphrey agrees.
"A team doesn't just have one year of rebuilding, it's a constant and gradual phase that every team must endure; this season it just hit our team all at once," the sophomore said. "A huge effort needs to be made in the recruiting department, and that falls on everyone."
The season will end with the annual banquet for the entire crew team, complete with superlatives representing the year and gifts to present to the seniors and coaches for a season well done.
"Space Coast Crew continues to surprise me every year," Rogers said. "These rowers have turned a year of mass chaos into a year that makes me look forward to the years to come."
The team holds annual summer camps and mans countless tables at several different high schools throughout the county. Anyone can join because, unlike most sports, there are no tryouts. Those interested in joining Space Coast Crew should visit the team's website at www.spacecoastcrew.org or talk to any of the team members for further information.
By Loryn Schopke