Upcoming 'Mario' already drawing attention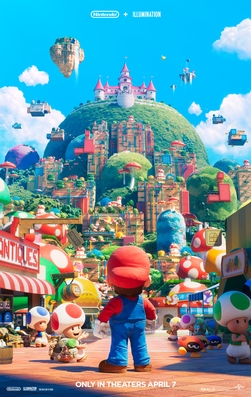 Mario is one of Nintendo's most iconic video game franchises to date. With the massive success of the Mario franchise it is no surprise that Nintendo has announced it will partner with Illuminations to make the "The Super Mario Bros. Movie," scheduled for an April 7 release. Voice actors for the animated film include Chris Pratt, Keegan Michael Key, Jack Black and Seth Rogan. 
"I'm hyped to see the Mario movie as it looks funny and I'm going to get yelled at around school for not watching it," freshman Francis Lewandowski said.
Apparently Lewandowski isn't the only one looking forward to watching as the two movie trailers on YouTube have drawn more than 400,00 likes combined.
"I'm a fan of Mario. It's the only game my mom plays with me," Lewandowski said. This is not surprising as Nintendo has built a reputation for making family-friendly games for groups of people including parents and their young children. 
"I definitely want to see the movie although my expectations for it are very low for it," freshman Elena Konicki said. "I think [Chris Pratt's] voice-acting is horrible. He sounds like Chris Pratt, not Mario".
Freshman Aaron Sims agrees.
"His voice sounds scuffed," he said.
By Aashish Adireddy