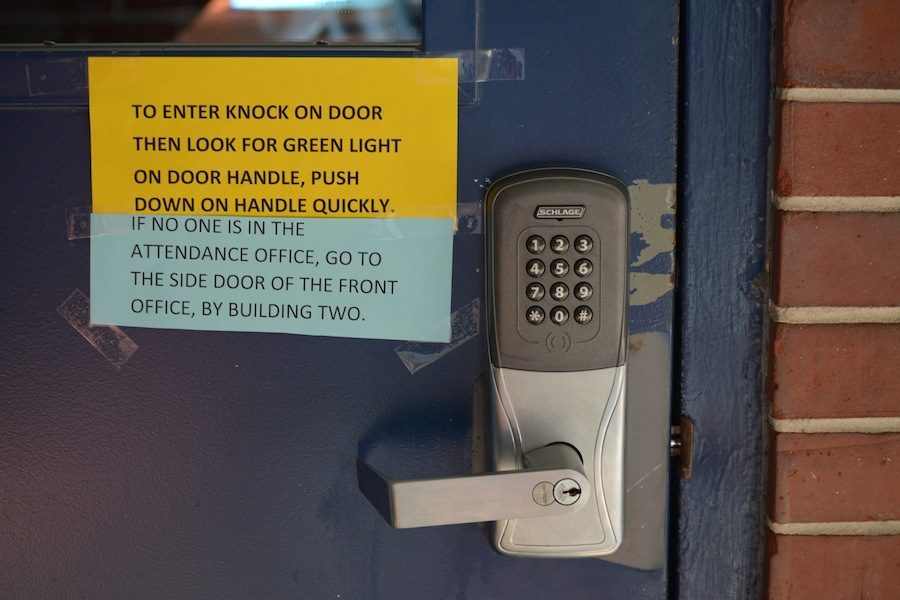 Armel Farkwell
Keypad locks recently have been installed on the front office doors Wednesday as part of a district-wide project intended to increase the security and safety of students at schools.
"They drilled the holes on the doors six weeks ago," said Catherine Halbuer, assistant principal of facilities. "However, they are still working on energizing the front door lock and there was a problem with the lock going from the front office into the campus."
In addition to the new door locks, the new gates located on the perimeter of the school are also part of the security upgrades. When the project is complete, the only way to enter the campus will be the main doors located in the front of the school. A camera and monitor have been placed in the main office and any visitors will first be seen on the monitor then granted or denied entrance into the office. All other gates and entrances will be locked.
"They send out a whole bunch of contractors when the schools are ready," Halbuer said. "They still have to finish some fence post inspections."
The administration said it will issue new directions for entering the campus during school hours after the project is completed.
By Andres Ramos